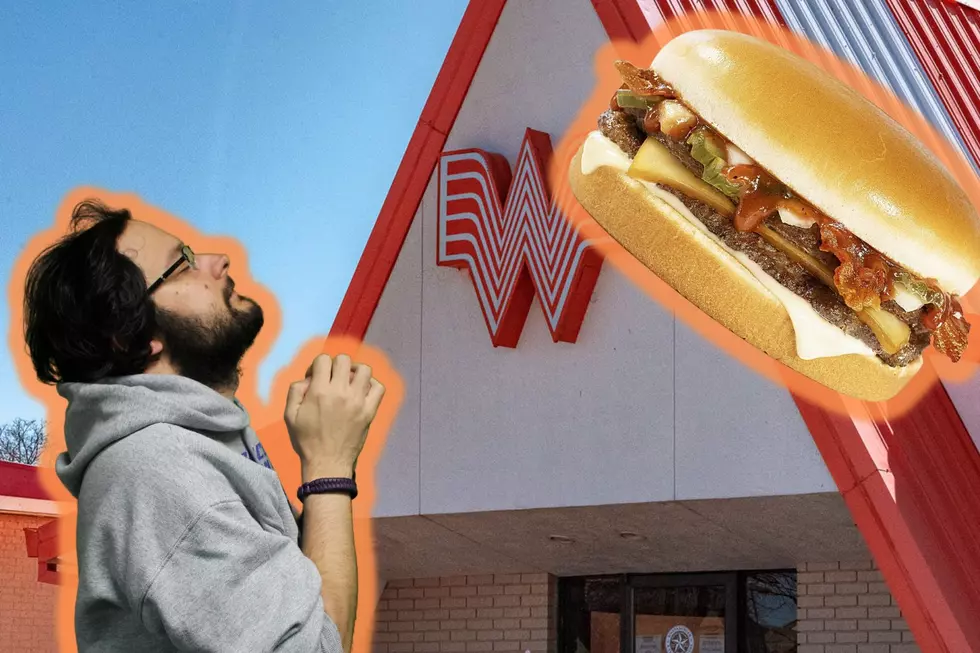 Run It Back Whataburger: These Menu Items Should Return or Stay Forever
Whataburger/TSM
We all love Whataburger in Texas. It's sort of a requirement of living in the Lone Star state isn't it? Well that and owning a cowboy hat.
Thankfully I've got both those bases covered.
Here's the thing: Whataburger has had many items on their menu, and while some aren't remembered as well, there are many that I wish would've stayed. I've thought of items that disappeared that I've had that I loved and should be back in some capacity on the menu.
There's also one item I never tried that wasn't officially on a Whataburger menu, but it sounds really good. So let's talk about that one first before we get into the main course.
Whataburger Jalapeno Ranch Chips
This was an item I didn't even know existed. H-E-B had these on sale at one point, but I haven't seen them on sale anywhere else. Could these be brought back at some point? Hopefully.
Ok, now onto the menu items we need back.
Whataburger Spicy Ketchup Limited Batch #2
This one I'm a little unsure if it left or it's still available. I've gotten it randomly in the past when asking for spicy ketchup. So hopefully it's still available and I'm just being silly. If not, it should be brought back in its full spicy glory.
Whatachick'n Bites
It's rather surprising that a place called Whataburger has excellent chicken too right? Now, the chicken strips are still good, but they took the bites off the menu, and I miss them so. I know I'm not the only one.
Buffalo Ranch Chicken Strip Sandwich
This is a wonderful alternative to the Honey BBQ sandwich. That item is good or course, but variety is the spice of life after all. Now if it was on sourdough bread too, I think it'd be perfect.
Breakfast Burger
This falls in the "stay forever" category. I know it just came back, but I think I speak for a lot of Texans when I say "don't leave!" This is perfect for late night snacking.
BBQ Bacon Burger
This burger hit the spot every time I had it. The sauce, the pickles, the cheese...it was all just right. I definitely this has a permanent spot on the Whataburger menu.
Southern Bacon Double
This is the most recent discontinuation on the menu, but this burger was absolute perfection. It even had cole slaw, and it's worked out perfectly. Hopefully it comes back soon.
Were there any items I missed? Let me know by sending us a message on our FREE station app!
Top 25 Delicious Foods & Drinks That Define The Great State of Texas!
There's more to Texas than just Dallas Cowboys and oil in fact, Texas has helped shape the taste of America. From BBQ, to Tex Mex to Ice Cream and beyond, Texas has introduced the rest of the U.S. to the Texas way of life through food. So what foods and drink make Texas so special? Let's take a look.
Shaq Dunks Into Dallas, Texas: Look at The Big Aristotle's New House
Shaq's new home in the Lone Star State has finally been revealed. Let's take a peek inside and bask in its glory, shall we?
Top 20 Restaurants Central Texans Wish Would Come to Temple
A while back, I
asked the good people of Temple
if they could picture a good restaurant to fill the lot on North General Bruce Drive where the soon to be torn down Long John Silver's stood.
This was before it was announced that a Dutch Bros. Coffee location would open there (which was one of the places I predicted as a contender in our article).
So now Dutch Bros. is open in that spot, but the responses to my survey were interesting because they paint a picture of just how diverse Temple's population is. People recommended some familiar restaurants with locations in the surrounding area, but also a few I'd never even heard of.
Here are the top 20 results of the survey. Let's see what the good people of Temple are craving!
The Yard Truck Food Plaza In Downtown Temple
Choose from a wide selection of cuisines from different cultures at the Yard Truck Food Plaza in Downtown Temple.