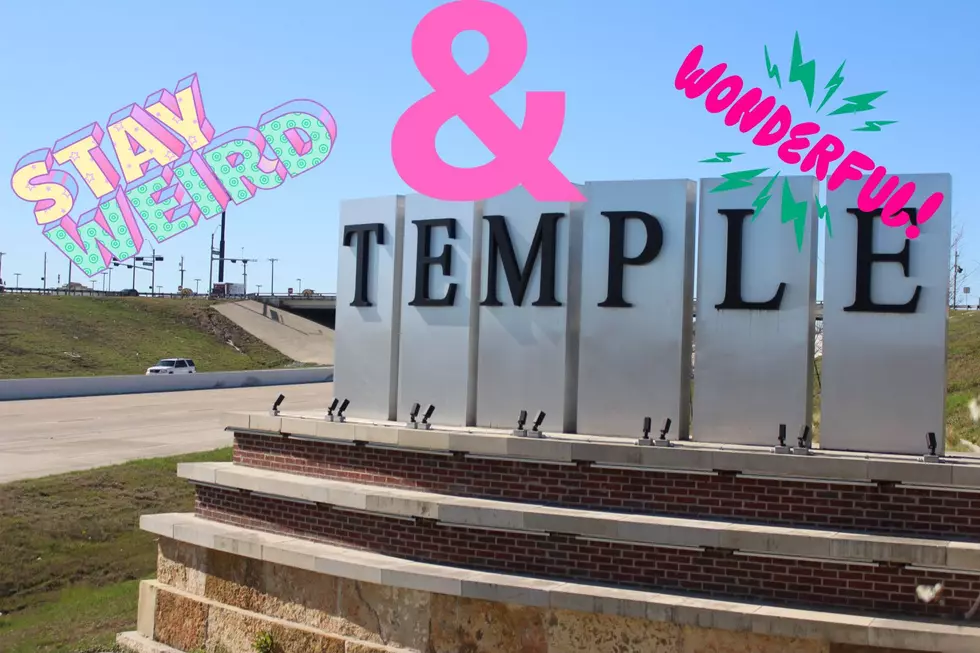 10 Weird but Wonderful Things About Life in Temple, Texas
Townsquare Media/Canva
So for those who don't know, I'm still new to central Texas. In my short time here however, day by day I've grown more and more in my new home. This is the farthest I've ever lived away from my parents though.
But while I do miss certain things in both Georgia and Alabama, I've noticed things here that make Temple the town it is. And yes both serious and silly appear on this list, because after all, not everything has to be serious.
So where do we begin? Well first:
Everybody here can handle the heat pretty well.
I'm amazed at how most here just don't let the heat affect them. Now I know I come from the land of humidity, but there's just something different about the sun just bearing down on you and the temperature striking triple digits.
Turnaround lanes are the BEST!
There's nothing more annoying than missing your exit and having to just keep driving hoping you find an easy way to get back to where you need to go. But with turnaround lanes, the next exit is your best friend to get you back on track. Truly a blessing.
Temple has it's own airport?
I didn't know that Temple had it's own airport. But it is Texas, so it makes sense there's airports everywhere in a state such as this. However, currently there is no commercial flights out of Temple. Wonder how we could fix that?
There's an IMAX Theater in the Temple Mall?
It seems kind of weird that there's just an IMAX theater here in Temple. It almost makes me wonder if anybody here in Temple has seen a movie in IMAX recently. Regardless, it just seems randomly placed too doesn't it?
There's multiple different types of college football and pro football fans here.
There's a lot college football here in Texas. Which obviously isn't a problem, but there's so many different teams to pick to root for. As for pro football, you're either a Cowboy or a Texan fan. By the way, I know this a random thought, anyway to bring back the Oilers team name? Those uniforms were amazing.
We've got our own Comic Con!
As a nerd, this is just wonderful. Nothing like being around a bunch of like minded people. And just outright being silly.
There is such thing as a food truck park?
As I get older, I love food trucks more and more. There's a lot to try in Temple too, so I'll have my hands and stomach full trying them all.
We've got not one, but TWO roundabouts!
Why are there two roundabouts in Temple? This is just seems out of place doesn't it. Was traffic that silly that it needed to slow down a little bit? Also just look at that stadium in the background...
This is a HIGH SCHOOL STADIUM?
Texans indeed take their football seriously. But WOW. A college team could play here and nobody could tell the difference. There's just one more thing I've noticed too.
Temple is always growing isn't it?
Temple seems to growing constantly, which means more new residents will be making their way to the Lone Star State. But they'll notice things too that I haven't won't they?
That's why I'm encouraging new residents to chat with us by sending us a message on our FREE station app! (And also to tell me what I missed!)
Shaq Dunks Into Dallas, Texas: Look at The Big Aristotle's New House
Shaq's new home in the Lone Star State has finally been revealed. Let's take a peek inside and bask in its glory, shall we?
Let's Explore The Silo at the Laughing Llama Farm in Troy
Bet You Didn't Know: 10 Bizarre Texas Laws Still on the Books
Many states still have strange laws on the books that aren't enforced or taken seriously anymore, and Texas is no exception.
Most of these laws are just funny now, but at one time, there was a valid (or at least somewhat valid) reason for them to exist.
Let's take a look at 10 of the weirdest ones in the Lone Star State.
6 Bizarre Town Names in Texas and the Stories Behind Them
There's no shortage of bizarre town names in Texas. Ding Dong, Kermit, Oatmeal, Reklaw, Pflugerville, and Zephyr: that's just the tip of the iceberg when it comes to the oddest town monikers.
Have you ever wondered how on earth these names got on a city sign? Keep scrolling to see the history behind some of the weirdest town names in Texas.