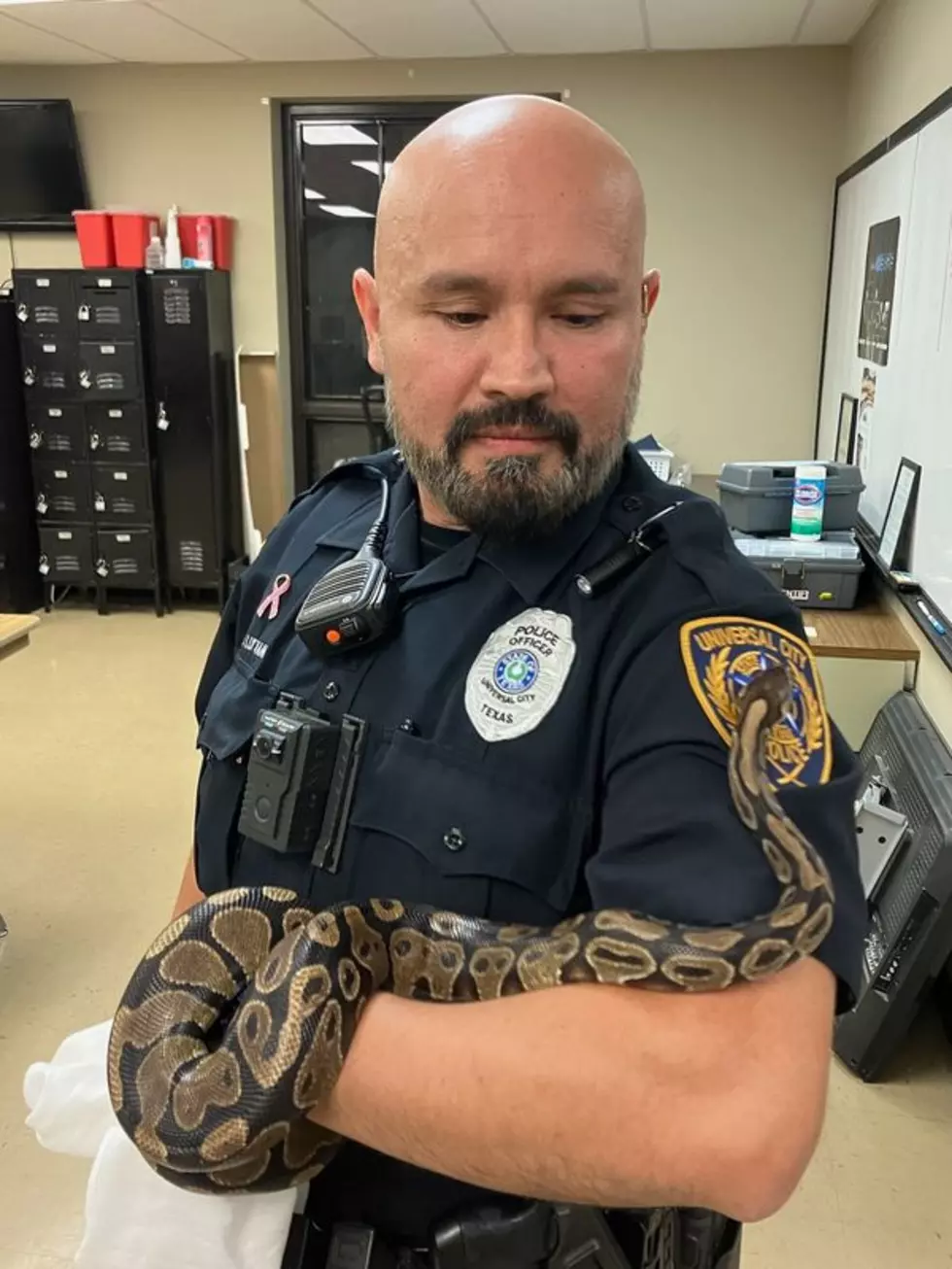 Hissy Fit: Surprise Snake in Universal City, Texas Home Was a Python
Universal City Police Department/Facebook
I don't know about you, but I try to avoid snakes. I'm not afraid of them, but I don't want to hold them tightly, either.
A homeowner in Universal City, Texas had a slithery surprise earlier this week when she spotted a snake in her house. It happens, right? However, this wasn't your regular wild Texas serpent.
Python in the House
KSAT reported that an area homeowner reported finding what she believed to be a rattlesnake in her home, according to Universal City police Lt. Sheila "Tina" Vitacco:
The lady provided him with an old pillowcase to transport the snake and it was later picked up by our animal control folks. The officer asked if the lady wanted to keep it since it was a pet but she was not having any of that.
Officer Hector Luevano, who is familiar with snakes, was sent to the woman's home and determined the reptile was not a rattlesnake, as she originally thought, but actually a python.
---
---
Vitacco said police are working to identify who the snake belongs to, but they believe the reptile could have potentially escaped from Polly's Pets, a nearby pet shop.
Pythons in Texas
Earlier this year, a large python was returned to its owner after the 12-foot snake was found on the loose and slithering under a parked car near San Antonio in Cibolo, Texas, according to KTBC. The python, named Shadow, belonged to Leah Garcia, who said the reptile escaped from a locked cage, and has a recreational controlled exotic snake permit to keep the pet.
Helpful Slithering: Which Snakes Could Help or Harm in Texas?
Not all snakes are bad. Some Texas snakes actually do a lot to help humans out, even if we don't always see or appreciate it. Then again, some snakes can do a lot of harm. Here's a quick rundown.
This Texas Hobbit House Airbnb Is A Perfect Weekend Getaway Spot
For decades, people have dreamed of getting away to the Shire and relaxing in the comfort of Bag End. Imagine sitting by the fire with Bilbo, Frodo, Sam, and Gandalf and enjoying a pipeful of Old Toby with a bottle of Old Winyards.
While you can't recite ancient Elvish and open a mysterious door to Middle-earth, you can stay in a comfy hobbit hole right here in Texas. This
Hobbit House Airbnb
is a great place to kick your feet up (hairy or otherwise) and enjoy some lazy R&R, but make sure you show some Dwarvish courtesy and wash the dishes after, eh?