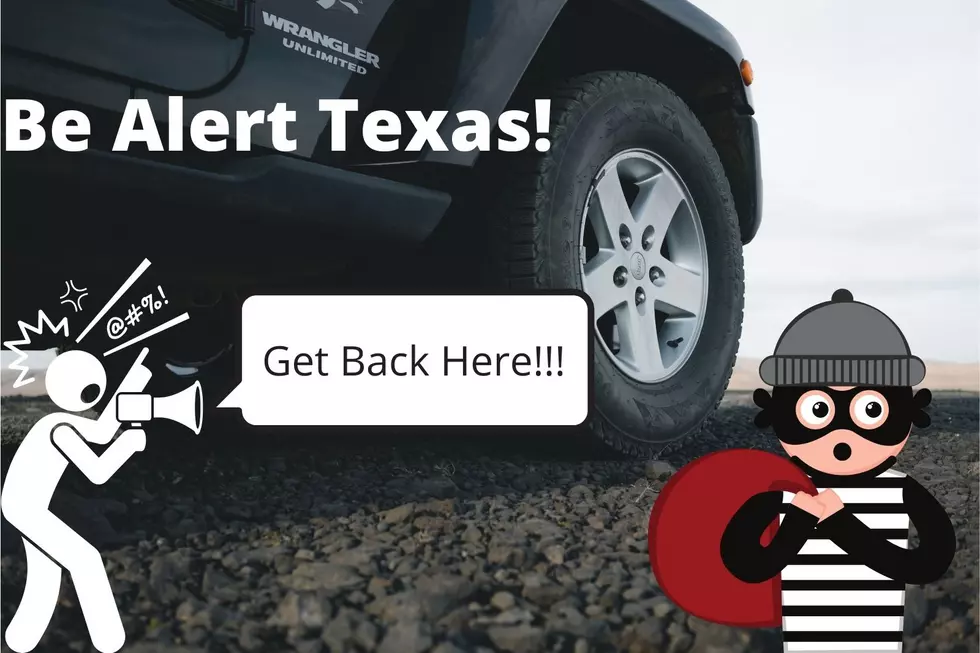 Texans Beware: Tire Thieves Rolling Back Into the Lone Star State
Canva
Nobody wants anything stolen from their personal belongings. It's just a fact of life. We all work hard to earn our money and daily things we need.
However we can't control what happens in life, and sometimes people want to take things that aren't theirs. Sometimes those things are little, like a piece of candy. Other times it's a bigger item.
It seems like tire thieves might be back in Texas
Yes it appears that tires might be back in thieves' sights. According to WFAA, Frisco Police are looking into 6 different cases of tires being taken. The one caveat is that the only tires from Toyota Corollas are being stolen.
But still, a potential return of tire thefts is something that many would rather not see come back. One of the victims according to WFAA was Alan Castro. He's unfortunately  one of the people who's had their tires taken.
However this isn't the only time Castro had his stolen
In six months, Alan has had his tires taken away from him two times. So he's lost eight tires in half a year. Which is a sentence that no one wants to say or write.
So how do Texans protect themselves?
According to police, the thefts seem to be occurring at apartment complexes. Officers are encouraging people to park in areas that are well lit, as well as places that cameras around that could film the thieves in question. So be aware everybody!
I wonder if there's a way to put trackers on tires...
Want To Ship Yourself Away? A Company In Waco, Texas Could Help
Want to stay in a shipping container without the worry of being shipped away? We've got just the ticket.
Bet You Didn't Know: 10 Bizarre Texas Laws Still on the Books
Many states still have strange laws on the books that aren't enforced or taken seriously anymore, and Texas is no exception.
Most of these laws are just funny now, but at one time, there was a valid (or at least somewhat valid) reason for them to exist.
Let's take a look at 10 of the weirdest ones in the Lone Star State.
The Most Dangerous City in Texas for 2022 May Surprise You
According to FBI statistics
, Texas had
438
violent crimes and
2,562
property crimes per 100,000 residents as of this year. For every 100,000 residents, there are
224
police officers statewide.
Crime rates are expressed as the number of incidents per 100,000 people.
Texas Crime Statistics By City
Check to see how crime compares in your city versus elsewhere.