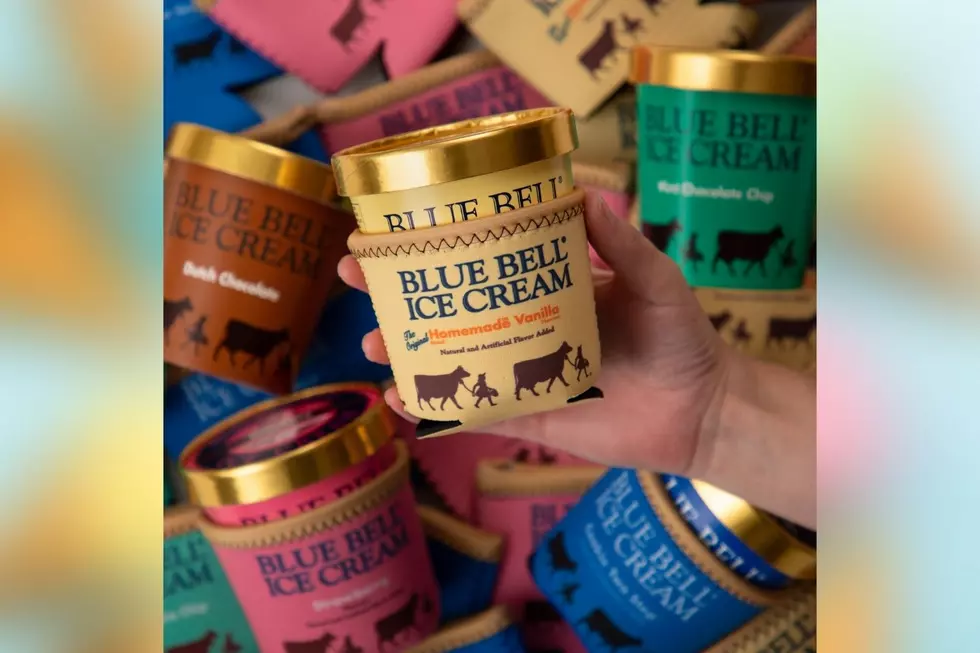 Keeping Your Ice Cream Ice Cold: Blue Bell Is Selling Adorable Pint Koozies
Blue Bell Facebook Page/Canva
Koozies have been a staple of keeping many drinks cold since...wait, when were they invented? (Eater.com insists the modern koozie came about in 1981.) Anyway, thank goodness they were invented because let's be real here - does anybody really enjoy actually holding a cold item?
I mean you have keep switching hands to keep yourself warm. The can also starts metaphorically sweating as well, so you have to wipe your hands constantly too. In short, you need a koozie for a cold drink in the heat.
But what about something that needs to be continuously cold?
With new ideas constantly being introduced, at some point somebody had to realize that people snacking on ice cream probably don't like having cold hands as well. Who hasn't eaten an entire pint of ice cream when they're sad? It's very comforting, or so I've heard.
Enter Blue Bell with something that many might have dreamed about. Or at least, an item other than something that would inadvertently melt the ice cream that consumers are eating. Yes, Blue Bell has finally made...an ice cream koozie.
You read that right. An ice cream koozie.
According to their Facebook page, the Blue Bell pint koozies went fast, but they're going to stock more soon.
Whoever came up with this idea deserves a raise. I'm talking a quadruple salary raise. How did nobody think of this before?
Now this item definitely won't keep ice cream cold outside in the sweltering Texas heat, but it will help when you're watching a movie or your favorite show.
But for those wanting to keep their sodas cold as well, we've got good news.
They've got regular ones!
In 3 varieties at the time of writing.
You can find the Blue Bell can koozies here.
I need all of these because I'm slowly becoming more of a Texan day by day. I love Whataburger, and I even now own a Whataburger ketchup koozie.
Serious question: Which Blue Bell koozie should I buy? Let me know using the chat feature in our station app!
Speaking of Blue Bell Ice Cream...
Blue Bell
is the official ice cream of Texas, and my personal favorite.
According to a new list
of the 15 best brands of ice cream nationwide, Blue Bell was ranked in the middle.
In addition to ingredients, texture, and variety,
Tasting Table
used
Influenster
and other site reviews as part of its ranking process.
Scroll on to find out how Blue Bell compared to the number one ice cream, and how all 15 on the list were judged.
10 Easy Things to Grow In Your Texas Garden
Whether you're an amateur, novice, or pro, these plants are easy to grow in any Texas garden.
Are You Moving To Temple, Texas? Be Aware of These Annoying Things
I was excited to move to Temple and start a new chapter in my life, and while life here's been good so far, the moving part...well, not so much. Here are a few things I learned that might help you out if you're looking to make this place home.
Top 20 Restaurants Central Texans Wish Would Come to Temple
A while back, I
asked the good people of Temple
if they could picture a good restaurant to fill the lot on North General Bruce Drive where the soon to be torn down Long John Silver's stood.
This was before it was announced that a Dutch Bros. Coffee location would open there (which was one of the places I predicted as a contender in our article).
So now Dutch Bros. is open in that spot, but the responses to my survey were interesting because they paint a picture of just how diverse Temple's population is. People recommended some familiar restaurants with locations in the surrounding area, but also a few I'd never even heard of.
Here are the top 20 results of the survey. Let's see what the good people of Temple are craving!