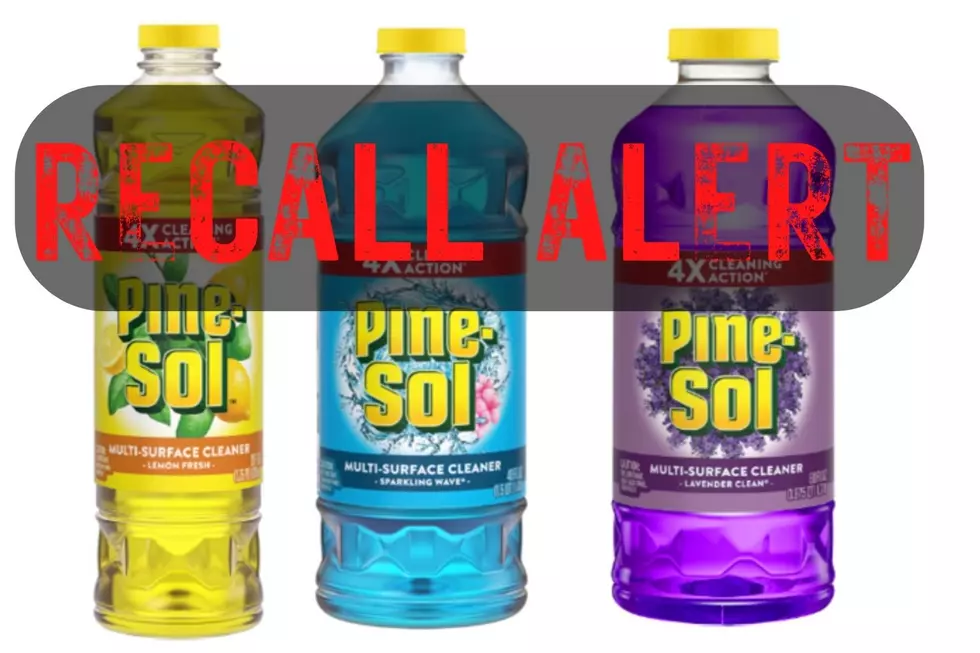 Bleach, Please – Texas Included in Pine-Sol Recall
U.S. Consumer Product Safety Commission/Canva
It's time to check under your cabinet or in the cleaning supplies closet, because Texas is included in the nationwide recall of certain Pine-Sol products.
Why Is There a Pine-Sol Recall?
The Clorox company has recalled some varieties of specially scented products over concerns that they could contain a potentially dangerous bacteria called Pseudomonas aeruginosa. According to the U.S. Consumer Product Safety Commission, people with a weakened immune system or or who use external medical devices could be at serious risk of infection that could require medical treatment. They report that the bacteria could enter the body if it's inhaled, or thorough the eyes or a break in the skin.
What Exactly Is Being Recalled?
One thing to note is that original scent Pine-Sol isn't being recalled, so if that's your product of choice, you're in the clear.
Here's what the CPSC says we need to be looking for:
This recall involves Pine-Sol Scented Multi-Surface Cleaners in Lavender Clean, Sparkling Wave, and Lemon Fresh scents, CloroxPro Pine-Sol All Purpose Cleaners, in Lavender Clean, Sparkling Wave, Lemon Fresh, and Orange Energy scents, and Clorox Professional Pine-Sol Lemon Fresh Cleaners, with date codes beginning with the prefix "A4" and followed by a five-digit number less than 22249. The products are sold in bottles of 28, 48, 60, 100, 144, and 175 fluid ounces. In an abundance of caution, Clorox is recalling all of the above-described products manufactured at its Forest Park, Georgia facility through September 2022.
Can I Get A Refund?
Yep. The CPSC says you should take pictures of the UPC and date code on the bottle if you find one, then send them to the folks at Pine-Sol. (You can do that here.)
5 Things to Do While Quarantined
5 Things I Took for Granted Before the COVID-19 Pandemic