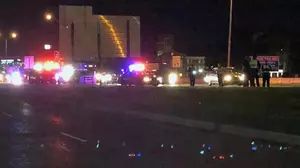 Man Walking in I-35 Lane Hit and Killed
by Clint Webb
News 10 is reporting that police have released the identity of the man who was killed Thursday evening as he was walking down I-35.
Donald Sanford, 72. was walking on the southbound lane of I-35 new Baylor's campus in Waco when he was struck and killed.
Officers found the man not responding.
Reports indicate that Sanford was walking in one of the lanes. One driver swerved to avoid him, however, the driver of a 2014 Ford Fusion was not able to avoid Sanford and hit him.
"At this point in the investigation, criminal charges are not being filed as Sanford was clearly in the vehicles lane of traffic and was wearing dark clothing," Waco police Sgt. W. Patrick Swanton said.
The person who hit Sanford was taken to the hospital, however, she is believed to not have any life-threatening injuries.
"It is unknown why Sanford was walking in the interstate traffic lanes," Swanton said.