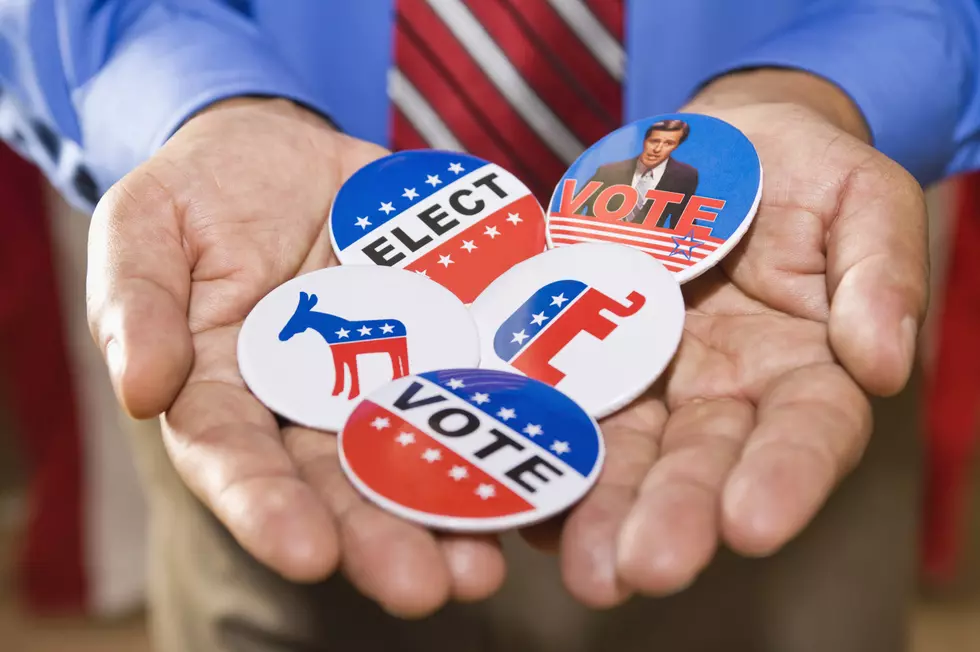 Bell County Judge Responds to Reports of Electioneering
Thinkstock Images
Early voting begin this week across Texas, and Central Texans showed up in droves to cast their ballots ahead of the October 30 early voting deadline.
Here in Bell County, there were reports of people waiting nearly three hours to vote, and some polling locations reportedly experienced problems with terminals that limited how many people could vote at one time, making those waits even longer. A reporter with our partners at News 10 even said she saw an elderly woman pass out while waiting to vote.
While it's great to see such a high turn-out, the usual problems that always seem to pop up during the early voting cycle once again reared their ugly heads, but it wasn't just long lines and equipment failures that caused trouble.
According to Bell County Judge David Blackburn, the county received several complaints of alleged electioneering at a Bell County early voting site. Judge Blackburn did not specify which location, but issued a news release Wednesday afternoon stressing that electioneering is against state law.
Electioneering, which involves expressing a preference for or against any candidate, measure, or political party within 100 feet of a polling place, is strictly prohibited. Anyone who believes electioneering is occurring at their voting location should take one of the following actions:
Notify an election official on site
File a complaint with the Bell County Elections Department at (254) 933-5774
File a complaint with the Secretary of State's Elections Division at 800-252-5650
Under Texas law, electioneering "includes the posting, use, or distribution of political signs or literature" within 100 feet of an outside door through which voters enter a polling place. It can also include loitering within 100 feet of the voting location's entrance or using a loud speaker or vehicle's sound system to campaign for a candidate, party, or issue within 1,000 feet of a voting center.
Basically, be courteous and don't pester people trying to cast their ballots by campaigning for any candidates, issues, or your preferred party, whatever it may be. Just let people vote in peace, and respect their right to do so with dignity and privacy.
Fortunately, I've never experienced electioneering at a polling place. I like to vote early a few days after the early voting period begins, and aside from almost being blinded by long rows of political signs set up along the roadway leading to polling places, I've never had anyone try to influence me by handing me a pamphlet for their candidate or trying to sway my vote.
I will, however, be the first to file a complaint if anyone, regardless of their party affiliation or stance on the issues, tries to influence or intimidate people too close to or inside wherever I choose to vote, and I hope you will as well. Every American eligible to vote deserves to feel comfortable and safe doing so, and I imagine most everyone reading this would agree.
By the way, during the early voting period you are permitted to vote at any polling station in your county. For example, if you live in Killeen but work in Temple, you can stop by a voting location in Temple to cast your ballot during your lunch break or after you get off.
Here's a handy list of early voting locations and hours here in Bell County courtesy of Judge Blackburn:
Belton - Bell County Courthouse Annex, 550 East 2nd Ave
Killeen - Bell County Annex, 304 Priest Drive
Killeen -Killeen Community Center, 2201 E. Veterans Memorial Blvd
Temple - Bell County Annex, 205 East Central Ave
Salado - Salado Church of Christ, 217 North Stagecoach
Harker Heights - Parks & Recreation Center, 307 Millers Crossing
Early Vote Days and Hours:
October 13, 2020 thru October 16, 2020 (Tuesday - Friday) from 8:00 am to 5:00 pm
October 17, 2020 (Saturday) 7 am to 7 pm
October 18, 2020 (Sunday) Noon to 5 pm
October 19, 2020 thru October 23, 2020 (Monday - Friday) 8:00 am - 5:00 pm
October 24, 2020 (Saturday) 7:00 am - 7:00 pm
October 25, 2020 (Sunday) 12:00 pm - 5:00 pm
October 26, 2020 thru October 30, 2020 (Monday - Friday) 7:00 am - 7:00 pm
Whether you choose to vote early or on Election Day (Tuesday, November 3), be sure to get out there and cast your ballot. Our right to vote is one of the most precious liberties we enjoy as Americans.
Enter your number to get our free mobile app
LOOK: Here are 50 political terms you should know before the upcoming election