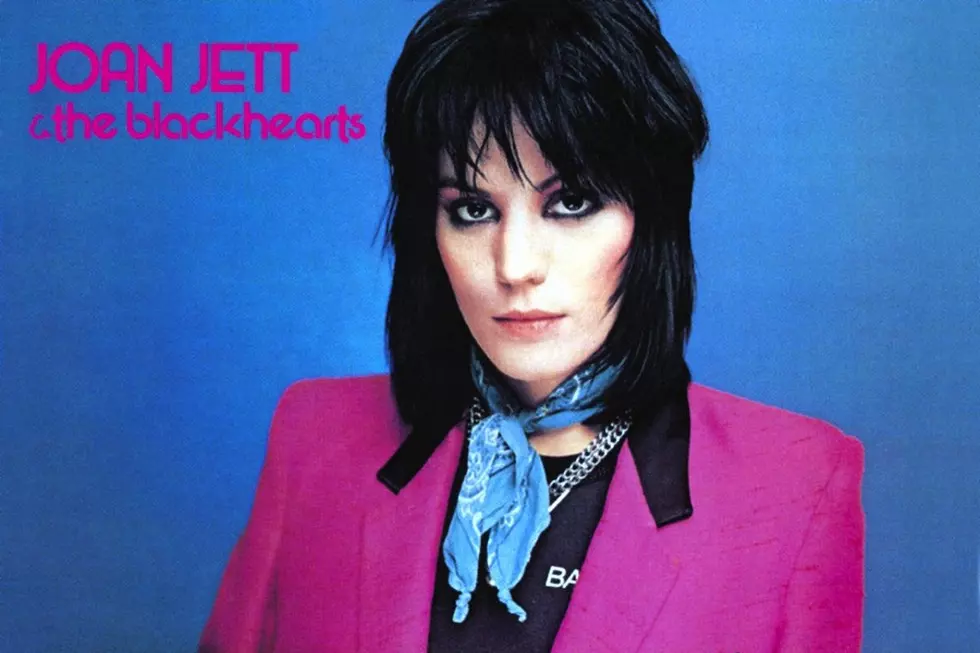 How Joan Jett Hit the Big Time With 'I Love Rock 'n Roll'
Boardwalk
Joan Jett's solo career looked like it was destined to be a dud after the Runaways splintered — but everything broke wide open with her second release, 1981's I Love Rock 'n Roll.
Released on Nov. 18, 1981, Jett's sophomore solo LP found her at a dangerously low professional lull. In the wake of the Runaways' collapse, she and her manager, Kenny Laguna, found it virtually impossible to land a record deal; as Laguna subsequently alleged, they received at least one rejection letter from every major in the industry.
"I was looking at them totally astonished," he recalled. "Pointing to this garbage and that garbage and wanting to know why the fuck they were signing it."
Undaunted, Laguna funded and self-released Jett's 1980 solo debut, selling it directly to concertgoers at her gigs. Eventually, her music got the attention of former Casablanca Records impresario Neil Bogart, who picked up the distribution rights to the Joan Jett record — later reissued as Bad Reputation — and brought Jett on board for her next release.
Listen to Joan Jett Perform 'I Love Rock 'n Roll'
With Laguna and veteran producer Ritchie Cordell behind the boards, Jett set about distilling her influences in a broader, punchier, more radio-friendly way. With her new band the Blackhearts alongside her and with Laguna as a frequent songwriting foil, she assembled a 10-track set balanced between originals and crowd-pleasing covers — and suffused with the heavy glam-rock stomp that inspired Jett as a listener.
"I love the whole style of early '70s glitter music," she told Musician. "That whole style of music has very upfront drums, so it's danceable. The stories in the songs aren't really too hard to understand. Who wants to think for a million years what a song's about? I can't enjoy music if I have to sit there and figure it out. I like it to be simple. Nice little songs that people can understand and identify with."
That style was effectively summed up in the album's title track, a shout-along cover drawn from the short-lived London band Arrows that had been a mainstay in her concert sets for years. The type of song that's almost impossible to forget after the first time you hear it, "I Love Rock 'n Roll" should have been an immediate hit for the band when they released their own version — but their loss was Jett's gain.
Dismissed by the industry mere months before its release, Jett found herself with a massive hit on her hands once "I Love Rock 'n Roll" shipped to radio. Released in late 1981, the song soared up the charts, hitting No. 1 on the Billboard Hot 100 and sending the album to No. 2. With a cover of the Tommy James hit "Crimson and Clover" poised for Top 10 success as the follow-up, Jett — and Boardwalk — had a certified smash on their hands, and Jett was suddenly off and running as a solo artist.
Listen to Joan Jett Perform 'Crimson and Clover'
"We pressed up our own copies and sold them out of the trunk of our car wherever we played," Jett later said of the first LP. "Now that we're huge with the second album, people like Clive Davis are saying 'How did we miss this!' But he rejected it himself, you know. We were rejected by every company you could name."
As Jett and her label would soon discover, the only thing harder than making it to the top is staying there; with subsequent releases, they'd find it hard to maintain the momentum she established with I Love Rock 'n Roll, and she'd spend the better part of a decade toiling under the shadow of her best-known hits before rebounding in 1988 with the Up Your Alley LP.
But the kind of vindication she enjoyed with the Rock 'n Roll record isn't the kind of thing an artist takes lightly, and even in the first full flush of her success, Jett wasn't shy about her determination to keep playing as long and as loud as possible.
"I'm satisfied I'm doing what I want, nobody'll stop me. It's still really exciting to me. I don't want to grow up," she told NME. "I'm happy with what I'm doing. I'm lucky to be happy and working. You've got to be happy for as long as you can."
Top 100 '80s Rock Albums
UCR takes a chronological look at the 100 best rock albums of the '80s.