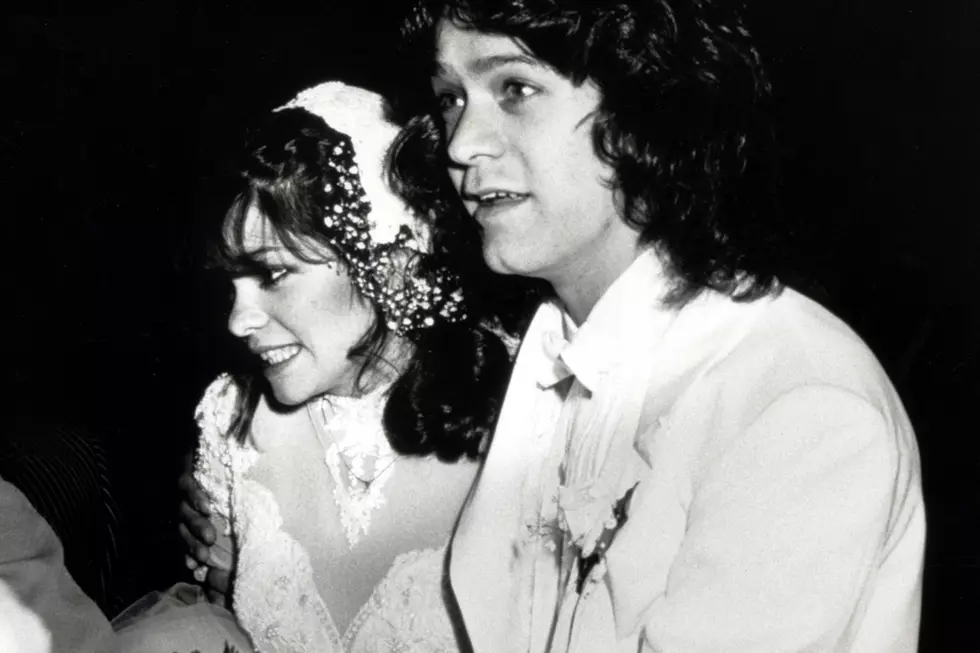 The Day Eddie Van Halen and Valerie Bertinelli Tied the Knot
Ron Galella, Getty Images
He was a guitar god with one of rock's fastest-rising young bands and she was a sitcom star with a squeaky-clean image. Most people probably wouldn't have pegged Eddie Van Halen and Valerie Bertinelli for wedded bliss, but the couple walked down the aisle on April 11, 1981.
Their courtship started when Bertinelli's brother dragged her to a 1980 Van Halen concert in Shreveport, La., even though she was more into Elton John. As soon as the two saw one another backstage, there was no separating them, even when Eddie's bandmates tried to discourage their quickly deepening relationship.
"The moment they laid eyes on each other, it was like, 'Aw, man, forget it,'" longtime Van Halen producer Ted Templeman later told People magazine. "There was a lot of pressure on him by the band not to marry her, but I think they were meant for each other."
"I don't think the other guys like [my getting married] too much. But I love it. Best thing I've ever done," Van Halen said in another report on their wedding. "I've never felt better or more happy. Even when I feel sad now, I've never felt more fulfilled," Bertinelli added. "It's crazy. I never thought anything could be this wonderful."
The couple opened up about the night they met, with Eddie recalling that he immediately recognized Bertinelli from her work on the hit series One Day at a Time. "I'd seen her on the show and thought ... 'Hmm, I'd like to meet her.' When she turned up, I was amazed. I thought, 'There she is! I want it!' No, actually I was very nervous."
"After the concert, we sat and talked for hours and hours. We realized we had a lot in common," Bertinelli said. "We talked about our parents, Holland [where he was born], how strict our upbringings had been, what it's like to be sensitive and scared of people. He has the same kind of scared feelings I have about the business. As soon as I met them I could see why he was so normal. I mean, does Mick Jagger live with his mother?"
The Van Halen/Bertinelli nuptials were among the earliest in an era that saw a slew of rock stars marrying Hollywood celebrities, and although a number of those unions quickly ended on the rocks, the Van Halens managed to stick together for many years — even during turbulent times that saw both dealing with personal and professional issues. On March 16, 1991, they welcomed the birth of their son Wolfgang, an occasion commemorated later that year with the Van Halen instrumental track "316."
Their troubles finally tore them apart, and they announced their separation in 2001 — although the end of their marriage might have ultimately been the best thing for their relationship. Whatever happened privately, they managed to maintain a unified public front, especially where Wolfgang was concerned. As time wore on — and Wolfgang grew up to become a musician in his own right, eventually joining Van Halen's latest lineup — the former spouses settled into their new lives and new relationships while building a different kind of family unit.
"I do love Ed so much, and I care about what happens to him. He's my son's father," Bertinelli told USA Today after the couple's divorce was finalized in late 2007. Noting that they both get along with their exes' significant others and vice versa, she added: "I was very, very in love with Ed in the beginning, but I was 20. I'll always love him, but not in that way. It's now like a mother/son or brother/sister thing."
Eddie's death in 2020 was understandably difficult for Bertinelli to handle. The actress got emotional during an appearance on the Today show, admitting she still had brief moments when she'd forget the rocker is gone. "I've gone to text him a few dozen times. I was like, 'Oh, I can't text him right now.'"
Bertinelli further elaborated her grief during an Instagram Live in January 2021. "We had some very difficult, very challenging times, but we had some beautiful times too," the actress explained of her marriage to Eddie. "And the lovely thing about grief — the gift that it gives you — is that it's so much easier to remember the beautiful moments, than the challenging and the difficult moments that you have with that person."
30 Famous Rock Wedding Photos