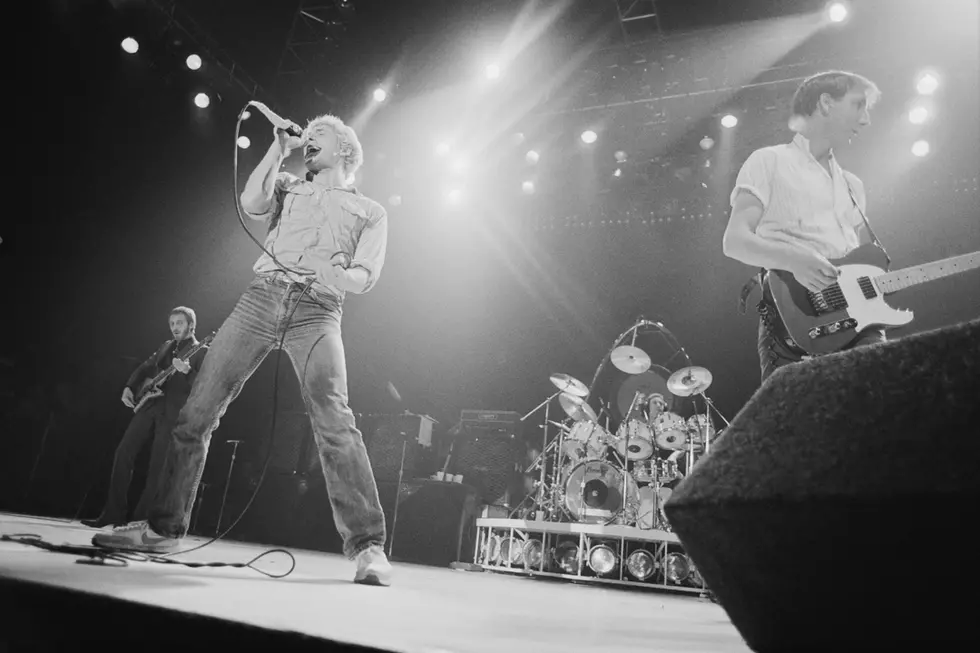 The Day the Who Kicked Off Their First Farewell Tour
Hulton Archive, Getty Images
A little more than three years after drummer Keith Moon died, the Who were feeling out of sorts with each other, musically and onstage.
That, along with Pete Townshend's desire to focus more on his solo career, was the impetus for the band's 1982 farewell tour, which kicked off its North American leg on Sept. 22, 1982, with the first of two shows at the Capital Centre in Landover, Md.
"While I loved the new sound of the Who with Kenney [Jones] on drums and [John Bundrick] on keyboards, I knew in my heart that the Who had lost contact with our fan base," Townshend wrote in his 2012 memoir, Who I Am. "This was not so much to do with the sound we produced; but more to do with who we were, what we had become. I'm not sure that we knew exactly who we were playing for anymore."
The two albums the Who made with Jones after Moon's death – Face Dances (1981) and It's Hard (1982) – had been met with some of the most mixed, and occasionally negative, reviews of the band's career. Singer Roger Daltrey has made no secret of his disdain for having Jones behind the kit, though to be fair, stepping into the shoes of one of rock's greatest drummers wasn't the most enviable task in the world.
Still, they soldiered on with him as long as possible before deciding to call it a day with the 1982 tour, balancing arena and stadium dates. Townshend, while happy to a degree with the gigs themselves, knew the end was near – at least for him it was – and intended to turn the Who into a studio-only act.
"The Who played pretty well on this tour, but it was being billed as our 'farewell tour,' and I wasn't about to argue," he said. "The tour was highly lucrative, achieving one of the highest grosses of our career. Long before it was over, everyone in our circle knew that I would announce that I was leaving the band. It also became clear that a peculiar crime had been perpetrated. The Who had gone down, but not in flames."
The songs played at the Landover show was indicative of the tour's set list – opening with "Substitute" and covering most of the Who's most popular songs in the career-spanning show, from new songs like "Eminence Front" to "Sister Disco" from their last album with Moon, Who Are You. Epics like "Won't Get Fooled Again" and "Love Reign O'er Me" were there, too. But as well as the band was playing and being received, would it really be the final run?
"I'm pretty sure that I won't change my mind," Townshend said in an interview before the two-night stand at Shea Stadium in October. "I don't want to go downhill," Daltrey said. "I think it's great to end on top." Bassist John Entwistle though, wasn't happy about the proceedings, and was vocal about wanting to continue touring. "I get most of my satisfaction from playing onstage," he pointed out.
The Who's 1982 "farewell tour" was the most high-profile goodbye run at the time by any group. Since then, it's become somewhat of a joke, since it wasn't really a farewell at all. The band regrouped for two one-off performances afterward, at Live Aid in 1985 and then at the 1988 Brit Awards, where they were recipients of a lifetime-achievement award. Yet even when they returned for The Kids Are Alright 25th-anniversary tour in 1989, Townshend was adamant that the Who had not gotten back together.
"We did our farewell tour," a straight-faced Townshend said at the press conference to announce the 1989 shows, much to the laughter of the press. "We said goodbye. We haven't been on the road; we haven't worked together in almost seven years. We're not a group as such anymore. We've actually come together, especially, for a 25th birthday party. That's what this tour represents."
He was true to his word – for a while anyway. The Who would reform for good in 1996, and continue on even after Entwistle's death in 2002. During their 2017 shows, Daltrey has said this will be the band's final tour. But no one seems to be buying it 35 years after they said the same thing.
Pete Townshend Albums Ranked
Nothing by the Who. No tribute records to Meher Baba. But we do have concept albums, collaborations and some pretty cool solo records made between band LPs.
Why the Who's Drummer Invited Fans to Moon Him