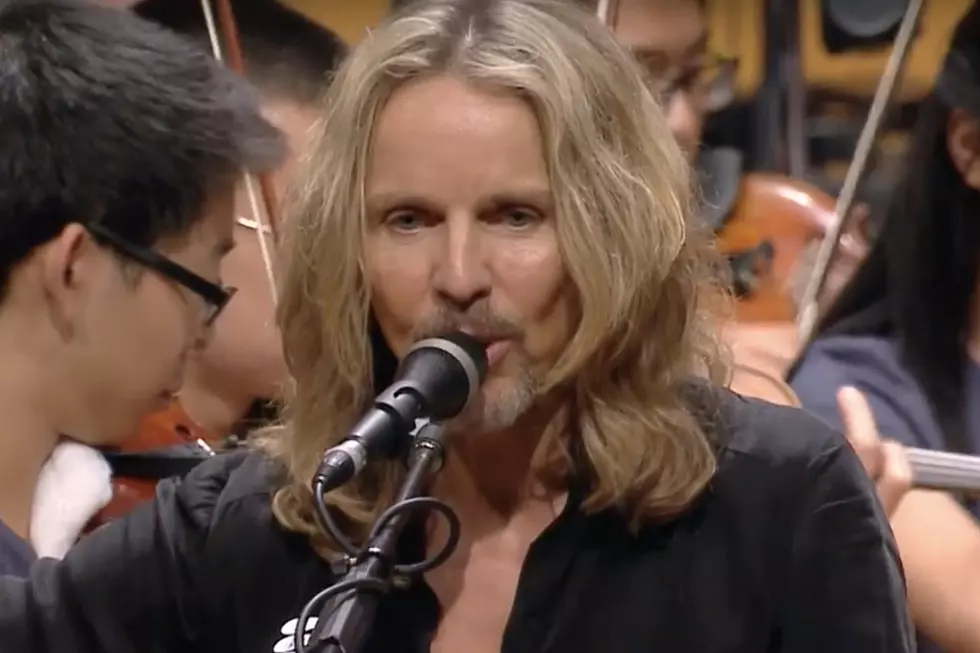 Tommy Shaw to Premiere 'Sing for the Day' Concert Special With Contemporary Youth Orchestra
YouTube
Styx's Tommy Shaw is bringing his 2016 solo show with the Contemporary Youth Orchestra to fans everywhere on July 9, when a concert special recorded during the performance is set to make its broadcast premiere.
As previously reported, the show — which took place at Cleveland State University's Waetjen Auditorium last May — marked Shaw's first solo orchestral concert. The event also commemorated the 10th anniversary of Styx's 2006 performance with the Contemporary Youth Orchestra, captured in the live film One With Everything.
"Ten years after Styx and CYO performed for the first time together, I've joined forces with them again," said Shaw in the special's press release. "This time for a solo acoustic symphony show!"
Titled Sing for the Day! Tommy Shaw and Contemporary Youth Orchestra, the special is set to air on AXS TV at 10PM ET. The broadcast is scheduled for the time slot after the season premiere of Rock and Roll Road Trip With Sammy Hagar — an episode which, as the Sing for the Day! press release notes, features Hagar visiting with Shaw and his Styx bandmates in Las Vegas.
The acoustic set list finds Shaw running through an assortment of songs from throughout his career, including solo numbers as well as Styx favorites and a handful of songs from his tenure in Damn Yankees — including "High Enough," an excerpt from which you can check out above.
Shaw, meanwhile, remains on the road with Styx, who are currently celebrating the release of The Mission, their first collection of new material in more than a decade. The album peaked at No. 45 on the Billboard chart upon its June 16 arrival — the highest position for a Styx studio album since Kilroy Was Here hit No. 3 in 1983.
Styx Albums Ranked Worst to Best