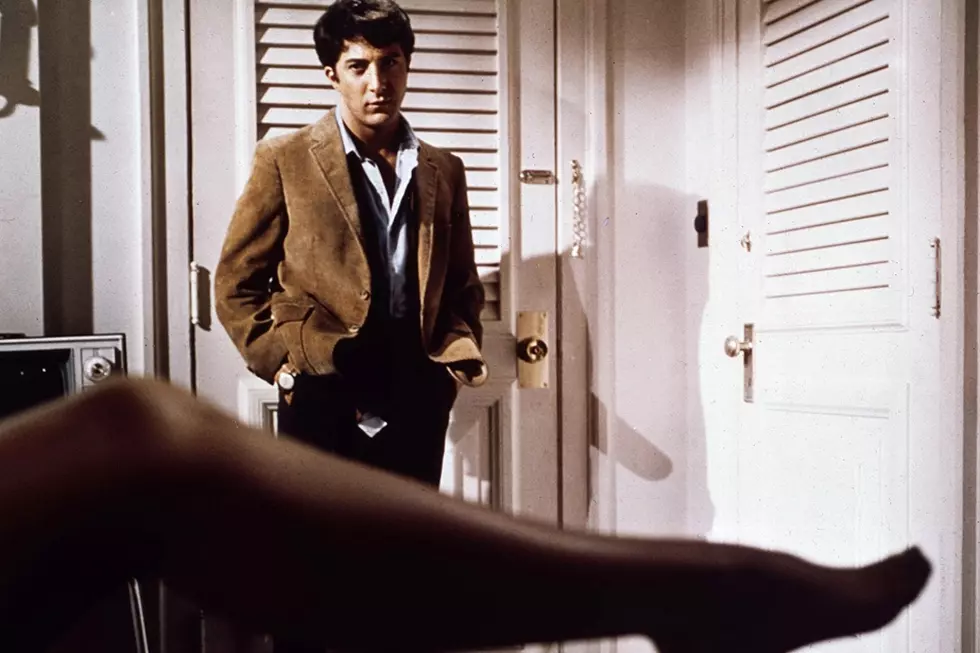 'The Graduate' Returning to Theaters for 50th Anniversary Screenings
United Artists
Director Mike Nichols' classic 1967 comedy The Graduate will make its way back to theaters this month as part of the movie's 50th anniversary celebration.
Rolling Stone reports that the film's 4K restoration will make its big-screen debut April 8, when it's scheduled to premiere at Hollywood's Grauman's Chinese Theatre and where it will play as part of the lineup at the TCM Classic Film Festival. That screening is just the prelude for a larger roll-out, however — from April 23-26, TCM plans to partner with Fathom Events to host The Graduate at 700 theaters, part of their ongoing Big Screen Classics series.
Aside from instantly catapulting Dustin Hoffman to the A-list, the massively popular film — which later went on to win Nichols a Best Director Oscar — also offered Simon and Garfunkel an opportunity to cement their status as emerging stars with the soundtrack, which served as the duo's first No. 1 album and included one of their most enduring and popular singles, "Mrs. Robinson."
Unfortunately, The Graduate also inadvertently started the slide toward Simon and Garfunkel's 1970 breakup. As label boss Clive Davis later recalled in his memoir, their association with Nichols led to the director offering Art Garfunkel a role in his next film, Catch-22 — and when filming delays complicated Garfunkel's contributions to Simon and Garfunkel's Bridge Over Troubled Water LP, creative and personal tensions between Garfunkel and Paul Simon were thrown into stark relief.
The Graduate's 4K restoration was previously released through the movie's Criterion Collection edition, which is available for purchase now. To find 50th anniversary screenings at a theater near you, check the Fathom Events website.
Paul Simon / Simon and Garfunkel Albums Ranked Worst to Best