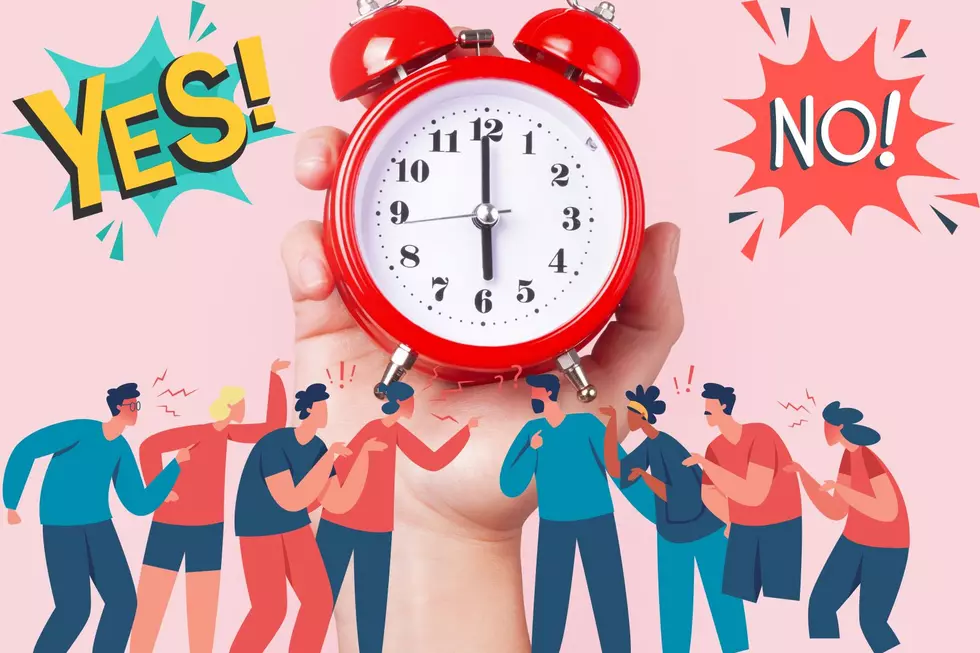 Temple, Texas Doctors Weigh In On Daylight Savings Time
Canva
We've all had this conversation right around this time of year. Some of us dread it, while others welcome it. This debate is one we've all picked a side on, and it's once again time to argue this one topic.
The Existence Of Daylight Savings Time.
For me personally, I love when it gets darker earlier. It honestly helps my mind and body prepare for bed easier knowing that it's darker quicker. But for others, and we've seen the countless memes about it getting dark quickly.
Some prefer it to stay brighter longer, and both sides have pushed for one time throughout the year. Recently however, Daylight Savings could be coming to an end, but there's still a lot to be discussed.
For some doctors in Central Texas, the thought of Daylight Savings Time becoming the time we all follow isn't as appealing as we believe.
Which Time Is Better For Us?
Our news partners at KWTX spoke with doctors in the area to discuss the time that could possibly be best for Texans. A Sleep Specialist at Baylor Scott & White, Carl David Boethel, said when interviewed that the extra hour of sleep we gain when DST ends is very helpful. Also helping during standard time is the extra sunlight we receive in the morning.
According to Boethel, the extra sunlight received in the morning helps us operate better. When DST goes back into effect, multiple issues arise, and people's rhythm's are thrown off by the time change. Boethel concluded that he would prefer standard time to be the time that becomes the norm, rather than Daylight Savings Time becoming the norm, which seems to be the current way of thinking.
He's not the only doctor that suggests standard time should be the time we all adhere to, as data shows other doctors like the idea of standard time staying.
Are you in favor or against Daylight Savings Time? Let us know by sending us a message on our FREE station app using the chat feature!
Top 25 Delicious Foods & Drinks That Define The Great State of Texas!
There's more to Texas than just Dallas Cowboys and oil in fact, Texas has helped shape the taste of America. From BBQ, to Tex Mex to Ice Cream and beyond, Texas has introduced the rest of the U.S. to the Texas way of life through food. So what foods and drink make Texas so special? Let's take a look.
10 Myths About Texas That Even Some Natives Believe
Everything's bigger in Texas, including the tall tales! Our state can seem pretty strange to people from far away, or even our immediate neighbors. There are several myths about Texas that range from quirky to fun and just plain ignorant and insulting, and even some people born and raised her believe 'em. Here are a few we can dispel today.
Lone Star Stunner: Take A Look Inside The Most Expensive House In Troy, Texas
If you want to be a farmer or just get away from it all in Troy, Texas, this home might be for you. Let's take a look inside.
Test Your Texas: How Many of These Jeopardy! Questions Can You Answer?
Jeopardy! as we know it has been on the air since 1984, but the show got its start way back 1964.
Over the decades, the writers have managed to keep coming up with challenging questions to test the intellectual might of America's best and brightest (and sometimes softball questions for celebrities).
Texas is a place packed with personality, culture, and history, and there've been hundreds of questions/answers about the Lone Star State. Let's take a look at a few recent ones, and keep an eye out because we'll add more soon to test your Texas trivia skills and challenge newcomers.
How many of these can you get right without Googling?