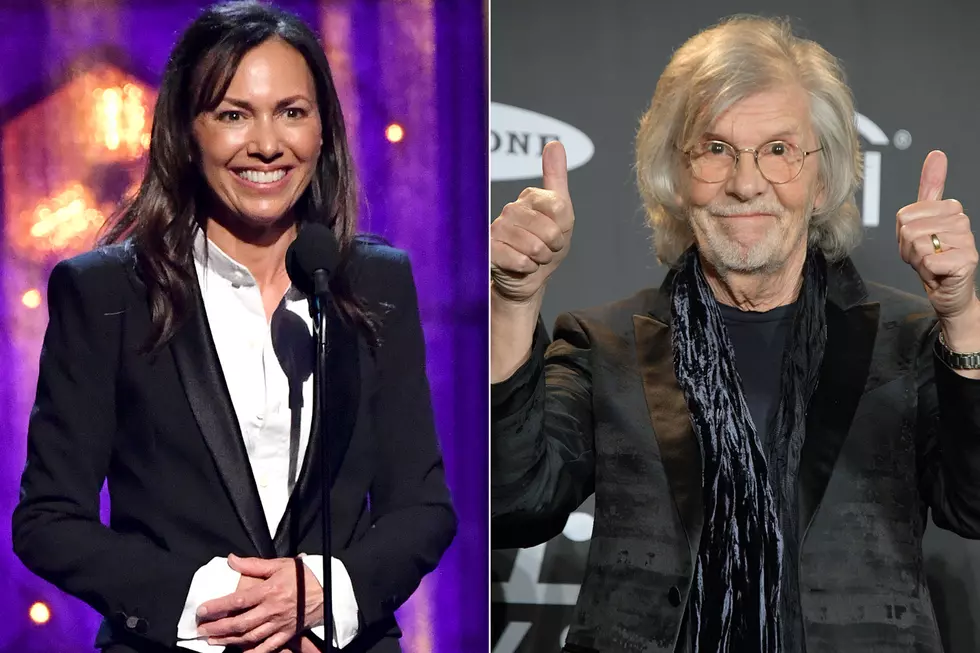 Susanna Hoffs Inducts the Zombies Into Rock and Roll Hall of Fame
Mike Coppola / Michael Loccisano, Getty Images
The Bangles singer has been an admirer of the band for many years. "I've loved the Zombies for as long as I can remember," she said, recalling a moment where she heard the band in the backset of her mom's car. "It was love at first listen."
"Their music seemed to defy laws of physics, reaching through space and time to thrill and enthrall me," she continued, singling out the band's classic 1968 album Odessey and Oracle as "astonishing" and singer Colin Blunstone's "fearless ability to emote, at the risk of exposing [his] deepest emotions and vulnerabilities."
Hoffs noted that her "love affair with the Zombies may have started in the '60s, but the now 60-year-old me loves them even more, as I have the great privilege of knowing what fine human beings they are and watching them perform many times. ... Even when their music moves me with its poignancy, to tears, it reminds me of what it's like to be alive."
Upon the announcement of her involvement in the induction, Hoffs tweeted that she was "beyond thrilled" the be a part of the ceremony, adding that her "love for the Zombies knows no bounds!"
In 2006, Hoffs teamed with Matthew Sweet for an album of cover songs titled Under the Covers, Vol. 1. The release focused on influential songs of the '60s and featured a rendition of the Zombies' "Care of Cell 44."
In 2012, Hoffs again put her personal spin on a Zombies classic, this time covering "This Will Be Our Year" for her From Me to You EP.
More recently, the Bangles singer contributed to The "Odessey": The Zombies in Words and Images. The book was released in 2017 to honor the 50th anniversary of the Zombies classic album. Hoffs was one of the many artists to comment on the LP's influence and ongoing legacy among musicians.
Once the dust has settled from the Hall of Fame festivities, both artists will turn their attention toward festival performances. The Zombies will be part of the Woodstock 50 in August, while Hoffs will join the Bangles for a performance at Kaboo Del Mar in September.
The 2019 Rock and Roll Hall of Fame Induction Ceremony will air April 27 on HBO.
The Best Photos From The 2019 Rock and Roll Hall of Fame Induction Ceremony