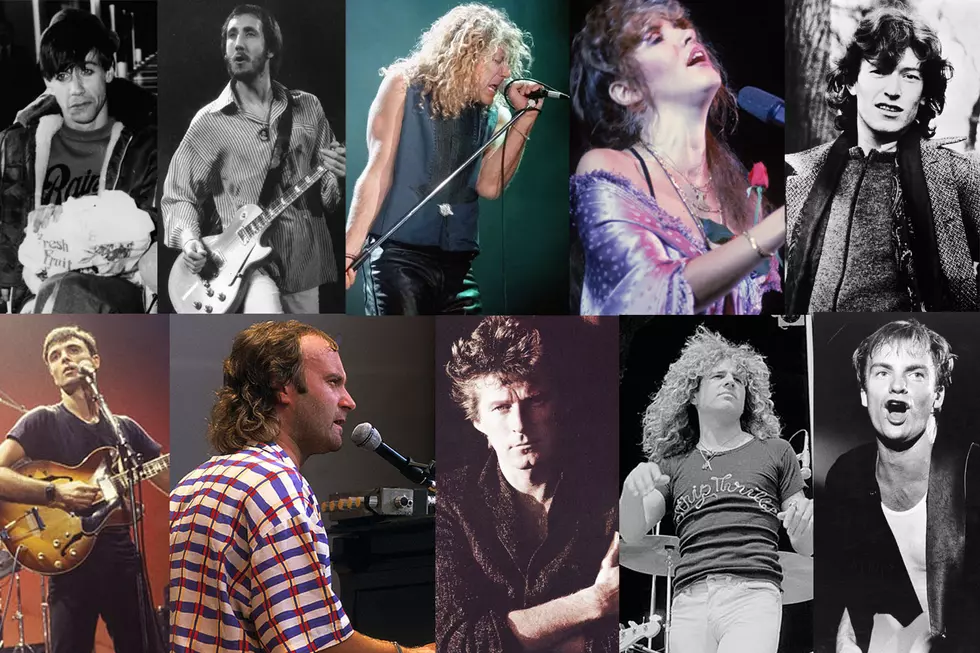 Should These 10 Solo Superstars Be Considered for the Hall of Fame?
Getty Images / Redferns / Geffen
With all the chatter about who deserves to be in the Rock and Roll Hall of Fame, we've noticed that, in recent years, the Hall has been reticent to induct artists who have had successful careers outside of their bands. Below you'll see 10 previously inducted singers whose solo work warrants at least consideration for nomination.
In the first two decades of the Rock Hall, it wasn't uncommon artists to be inducted several times. Eric Clapton has been inducted three times -- for the Yardbirds, Cream and his solo career -- between 1992 and 2000. Paul Simon is in twice, as are Jimmy Page (Yardbirds, Led Zeppelin) and R&B legends Curtis Mayfield (the Impressions, solo act) and Michael Jackson (Jackson 5, solo). Stephen Stills was even inducted twice in the same year (1997) for Buffalo Springfield, which included Neil Young (1995 inductee), and Crosby, Stills & Nash (David Crosby's time in the Byrds was recognized in 1991, while Graham Nash waited until 2010 before the Hollies were inducted).
Yet after George Harrison's 2004 induction, only a handful of musicians who were already in the Hall of Fame have been enshrined for a second time for their solo careers: Jeff Beck (2009), Peter Gabriel (2014), Lou Reed (2015) and Ringo Starr (2015, as the winner of the Award for Musical Excellence). Rod Stewart took the reverse approach, entering first as a solo act in 1994, with the Faces not getting their due until 2012.
Many of the artists we've selected reached the commercial peaks of their solo careers in the '80s, but faded in the '90s, either as tastes changed or their bands reunited. We realize that last detail could hurt their chances of getting inducted into the Rock and Roll Hall of Fame, but we feel their catalogs are nonetheless strong enough to at least include them in the conversation.
Inducted as a member of: Talking Heads (2002)
Eligible for solo induction since: 2006
David Byrne first broke off from Talking Heads by collaborating with Brian Eno on 1981's My Life in the Bush of Ghosts, where they merged ambient music and sampled vocals with global rhythms. After his band's breakup, he's followed his muse, continuing to explore world music while composing scores for films, art exhibits and dance productions. But none of his records have matched the commercial success he had with Talking Heads.
Inducted as a member of: Genesis (2010)
Eligible for solo induction since: 2006
With the Hall opening itself to artists who've sold millions of records but never had critical acclaim, perhaps it should re-examine the career of Phil Collins. From 1981-93, he released six albums, five of which sold more than 3 million copies in the U.S., while putting up simultaneous similar numbers as a member of Genesis. But his lack of output in the past two decades could hurt his chances; since 1996, he's released only three rock records -- one of which was comprised of covers -- and a pair of scores for Disney movies.
Inducted as a member of: Van Halen (2007)
Eligible for solo induction since: 2001
Sammy Hagar was a rock star before joining Van Halen, having delivered three consecutive albums in the early '80s that went gold or platinum before he was picked to replace David Lee Roth as the band's singer. And while his time fronting Van Halen took him to even greater commercial heights, since his departure Hagar has had difficulty recapturing his chart magic. Chickenfoot's 2009 debut is his only gold record since 1987's I Never Said Goodbye solo LP.
Inducted as a member of: Eagles (1998)
Eligible for solo induction since: 2007
Both Don Henley and Glenn Frey had hits after the Eagles broke up (and Joe Walsh had them before, during and, to a lesser extent, his time with the band), but Henley had the most commercial and critical success of all of them. His three '80s solo records, I Can't Stand Still, Building the Perfect Beast and The End of the Innocence, merged contemporary sounds with thoughtful, socially conscious lyrics. But once the Eagles reunited in 1994, he put his solo career on the back burner, delivering only two albums since, 2000's inside Job and 2015's Cass County.
Inducted as a member of: Led Zeppelin (1995)
Eligible for solo induction since: 2007
Of all the artists on this list, Robert Plant had the toughest time establishing himself outside of his band. His earliest records found him running from Led Zeppelin and chasing then-current sounds with inconsistent results. But over the years he's learned to stop worrying about the charts and his past and to simply explore his ever-growing musical curiosity, and it's led to some of the most critically acclaimed music of his career.
Inducted as a member of: The Stooges (2010)
Eligible for solo induction since: 2002
Iggy Pop's solo career has had nearly everything one would want from an artist. He's been prolific and diverse, and he has worked with a wide range of collaborators without trying to sound like the Stooges along the way. The problem is that he hasn't had many hits, with only four songs between 1986 and 1990 denting the Top 40. Arguably his best-known track is 1977's "Lust for Life," which only gained fame after it was used in the 1996 movie Trainspotting and then featured in other movies and advertisements.
Inducted as a member of: The Police (2003)
Eligible for solo induction since: 2010
After the Police broke up, Sting didn't try to recreate the formula that brought him fame. Instead, he hooked up with some of jazz's young lions and released The Dream of the Blue Turtles. His subsequent records continued to blend challenging music with pop smarts and intelligent lyrics. But starting in 2006, he made several detours. including an album of lute songs by Renaissance composer John Dowland and a Broadway musical, none of which resonated with critics or the public.
Inducted as a member of: The Who (1990)
Eligible for solo induction since: 1997 
Pete Townshend's solo work was originally a way for him to explore his acoustic side and spread the word of his spiritual guru, Meher Baba -- something he didn't have much of an opportunity to do within the context of the Who. But 1980's Empty Glass, which featured the hits "Rough Boys" and "Let My Love Open the Door," and 1982's All the Best Cowboys Have Chinese Eyes, became showcases for his best songs, to the detriment of his band. After the Who's 1982 breakup, Townshend continued pursuing his grand concepts on his own, but the full-time resurrection of the band in the mid-'90s pretty much sidelined his solo career.
Inducted as a member of: Traffic (2004)
Eligible for solo induction since: 2002
Steve Winwood's solo work eschewed Traffic's prog in favor of an updated, synth-heavy version of the blue-eyed soul he made his name with in the pre-Traffic Spencer Davis Group. It crystallized on 1986's Back in the High Life, which featured four Top 20 hits, with 1988's Roll With It keeping up the pace. But since 1990's Refugees of the Heart, Winwood has released only three records of new material.