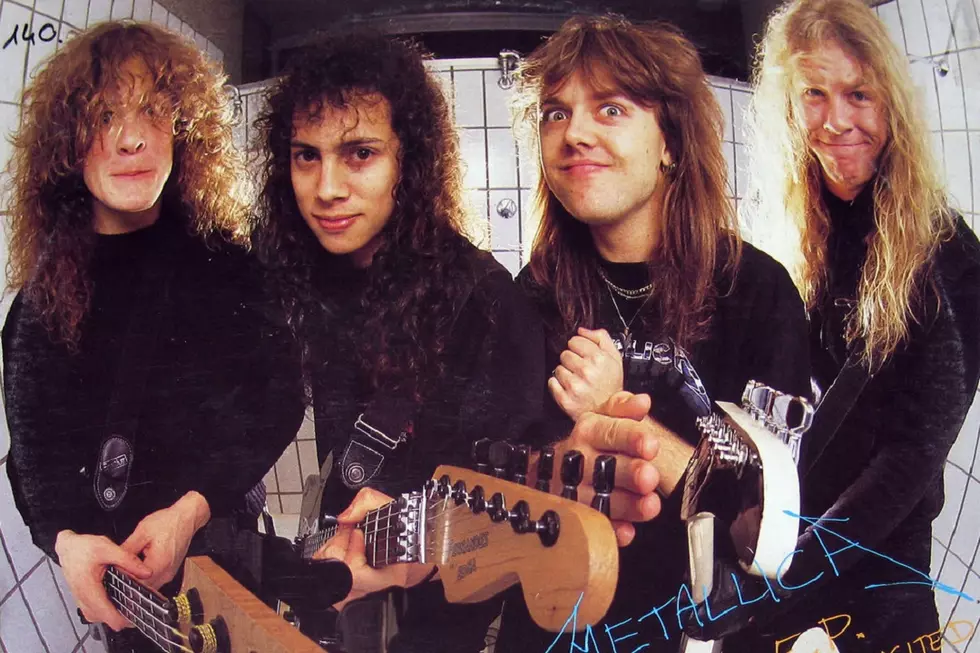 How Metallica Bounced Back With 'Garage Days Re-Revisited'
Elektra
Metallica had swiftly returned to the road following the tragic death of Cliff Burton in September 1986. After wrapping up their touring commitments in early 1987, they finally began plotting Metallica's next evolution alongside new bassist Jason Newsted.
A proper studio album was, of course, in their future. But first, Metallica quickly recorded a six-song set consisting entirely of cover songs by artists who had influenced them.
The resulting EP, Garage Days Re-Revisited, was released on Aug. 21, 1987. In addition to giving Metallica a relatively low-pressure way to resume the studio portion of their career without Burton – and presumably, more time to heal and deal with their grief – it offered them a chance to further bond as a band with Newsted.
It had already been established that Newsted was a solid fit with the group in a live setting, but there were questions about how the writing and recording would go with the former Flotsam & Jetsam bassist. (Of course, skipping ahead a bit, they pretty much punted on that issue with 1988's ... And Justice for All by placing the bass controversially low in the mix.)
"When I came into the band, I'd only ever known one process of recording," Newsted told Martin Popoff in Metallica: The Complete Illustrated History. "Flotsam & Jetsam's first album, Doomsday, was recorded and mastered in six days." That would be the blueprint for Garage Days, too. Rehearsals took place in drummer Lars Ulrich's garage, which had been recently renovated and converted to jam space in a project spearheaded by Newsted. It was a clear indicator of the spirit of things going in.
"We never had these huge group meetings planning just how we should come across or look, you know?" Ulrich is quoted as saying in Birth School Metallica Death. "It's just the way we are that people see, and the EP wasn't any major planned thing. … We did it all in six days down in L.A., which was very quick for us. We usually like to take our time on stuff, but we wanted this to be as spontaneous as possible. The time it took us to record the EP … was the [same] time it took us to set up the gear in the studio for the last album!"
Newsted added, "Play in the room together, jam, that's how I learned to record."
Listen to Metallica's 'The Wait'
The kind of songs that Metallica worked on – a mixture of punk and New Wave of British Heavy Metal classics – would lend themselves to that idea. They kicked off with Diamond Head, an old favorite whose "Am I Evil?" had previously been covered by Metallica for the B-side to their 1984 single "Creeping Death." This time around, they updated the rager "Helpless," creating the opening cut for Garage Days.
Next up was the slow-burner "The Small Hours," which had originally been done by the little-known Scottish metal outfit Holocaust. Following four minutes of lumbering along, the song shifts gears into a frenetic grind punctuated by Kirk Hammett's squealing guitar lead, and then reverts back to its original, threatening meter. Hammett was the one who suggested taking on Killing Joke's "The Wait" – which, like the Diamond Head track, benefitted by not being particularly well-known by music fans. This allowed Metallica to add in their own elements, almost under the radar.
"The fact that the original versions of 'Helpless' and 'The Wait' don't even have solos in them was a bit of luck: No one would have anything to compare them to, and it kept any preconceived ideas out of my head," Hammett told Guitar World. "We did that EP for the fans, just for fun, and Elektra loved it and released it."
Most of the previous tracks hovered at the five-minute mark or beyond. "Crash Course in Brain Surgery," which came to Metallica courtesy of the Welsh rockers Budgie, returned to the "hit it and quit" punk ethos – something that kept the thumping piece at just over three minutes. Similarly timed was the double-shot hybrid moment of two Misfits classics, "Last Caress" and "Green Hell." The former boasts a sing-songy flow that belies its lyrics about killing babies and raping mothers; the latter was an aggressive and brutal thrash number. Somehow, the pairing of songs works perfectly together. Their sonic differences compliment each other brilliantly.
At the end of the EP, Metallica unknowingly stumbled into a little bit of controversy by launching into an extremely loose rendition of Iron Maiden's "Run to the Hills." It's almost comically ragged, as if it was done in jest – but according to Ulrich, that was hardly the intent. "There may have been a couple of people who thought that we were taking the piss but obviously it was meant as a tribute in our own perverse Metallica way," he told Rhythm Magazine.
Listen to Metallica's 'Last Caress / Green Hell'
Another misconception about Garage Days is that it was actually recorded in a garage. While it was rehearsed in the aforementioned spot at Ulrich's residence, the sessions were completed at two top-of-the-line locations in A&M Studios in Santa Monica and Conway Studios in West Hollywood. Birth School Metallica Death revealed that the band was bequeathed some studio time from an unlikely source: Ted Nugent, who had finished recording his 1988 solo album If You Can't Lick 'Em … Lick 'Em ahead of schedule.
"The term 'garage' isn't something you can really define," Ulrich later said. "It's more to do with vibe and feeling around a project and a band in general. We've always considered ourselves to be kind of different to whatever else is out there at the moment, in so much as we do things for fun, and for ourselves – for our own enjoyment."
In an effort to protect their fans from price gouging, Metallica added their own suggested retail value to the title of the EP. Depending on the format, it read The $5.98 EP: Garage Days Re-Revisited or The $9.98 C.D.: Garage Days Re-Revisited. They also plastered a sticker on the front warning "DO NOT PAY MORE!!!"
Just two years after getting released, the EP went out of print, turning it into a bit of a collector's item – and driving the market price way higher than those earlier pricing recommendations. Happily, all of the songs from Garage Days Re-Revisited ultimately reappeared on Metallica's next covers album, 1998's Garage, Inc.
"Putting out an EP of all cover tunes was absolutely unheard of, which we thought was really cool," Metallica frontman James Hetfield told Guitar World. "We didn't do too many arrangements, except to some of the Budgie tunes, where we eliminated some lame singing parts. For some of the songs we tuned down to D to make them a little heavier. The guitar sound is really awful, but it was the first thing we put out where the bass could be heard, so Jason was happy."
It was also a unique way to introduce the new member of the band to the Metallica fans at large, and in a much more relaxed setting than the daunting task of committing pen to paper and coming up with all original material.
Later though, the bassist would downplay the importance of the EP. "The Garage Days record didn't mean anything; it was a punk record," Newsted said in Metallica: The Complete Illustrated History. "That was the mentality; 'Not-so-produced by Metallica.' That was the whole deal, warts and all."
The Most Shocking Rock Star Fashion Reinventions
From David Bowie to Metallica, these are the most shocking rock star fashion reinventions.
The Rush / Metallica Team-Up That Slipped Away