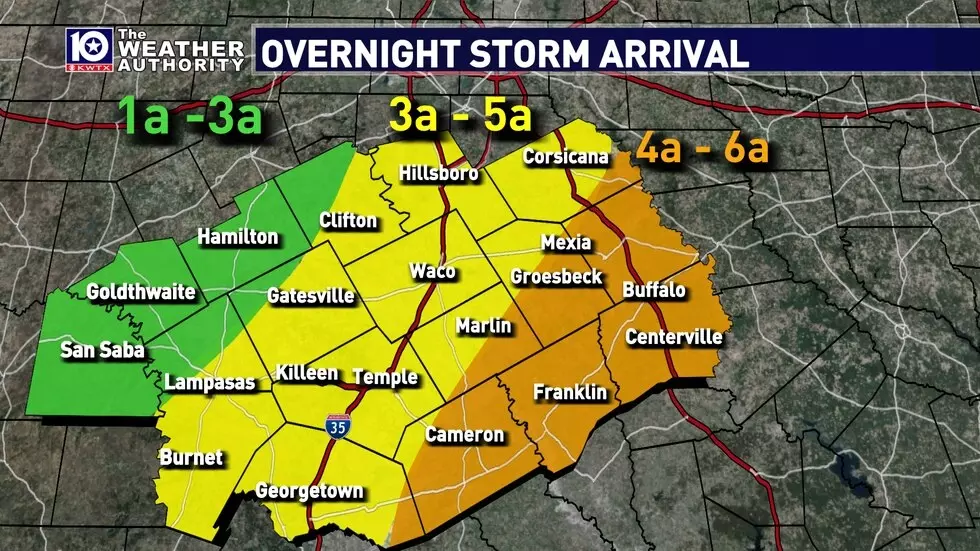 Killeen Could Be Hit by Hail and High Winds Tonight
Photo Courtesy Of KWTX
As if this year hasn't given us crazy weather already, there is more coming!
The crazy part about it is it has nothing to do with massive heat like Texas is known for.
Our partners at KWTX-TV warn that there's an 80% chance of severe storms passing through our area tonight, and they could bring hail and high winds with them.
Meteorologist Sean Bellafiore reports that we are at a level 2 out of a possible 5 for severity. Tomorrow from 1 am to 9 am hail and gusty winds are expected as well. Tornadoes may be possible, but Sean tells us the chances are low.
After 11 am, once the storm is finished, we are expected to pop back into the mid-70s.
So brace yourself for the storm and have a plan for your family to seek appropriate shelter or meet up in a safe location if the storm does become more severe.
Make sure you bring any outdoor pets inside or arrange for them to have sturdy, dry shelter out of the wind. You wouldn't want to be sleeping out in the open during a hail storm, would you? Neither would Rover.
Before you go to bed, check to see if your windows are closed, your car is covered or in the garage if possible, and any items and plants that could be blown away or harmed or anchored down or sheltered.
Once it's over, we can get back to mild spring weather with temperatures in the 60s and 70s this weekend.
How Many in America: From Guns to Ghost Towns
Can you take a guess as to how many public schools are in the U.S.? Do you have any clue as to how many billionaires might be residing there? Read on to find out—and learn a thing or two about each of these selection's cultural significance and legacy along the way.