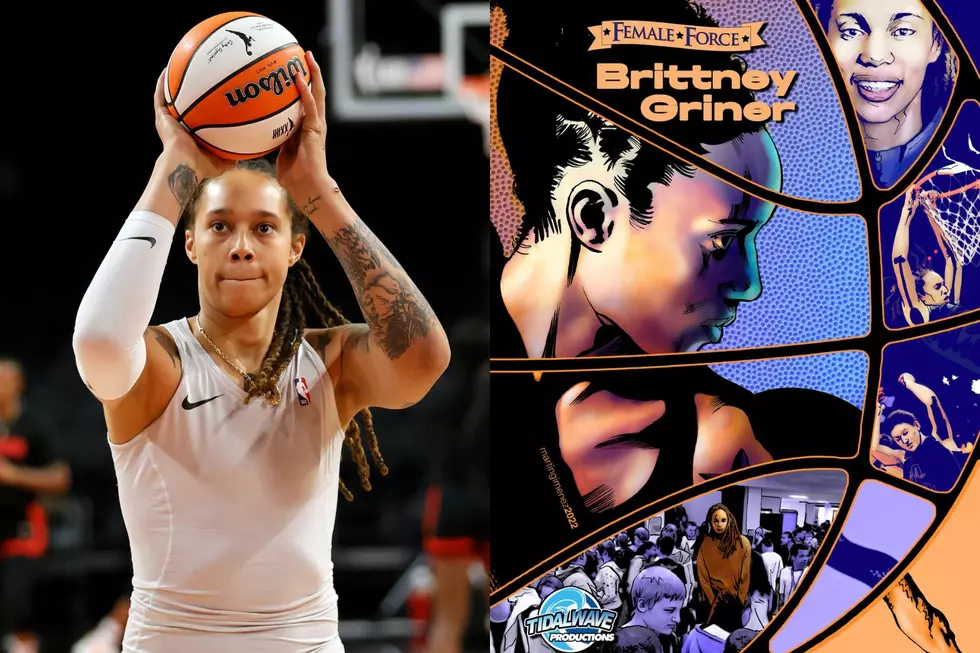 Brittney Griner's Story Is Officially Comic Material
TidalWave Comics, Facebook/Getty Images/Canva
We have followed Brittney Griner's career from being born and raised in Houston. Attending Nimitz High School before winning a national championship at Baylor. Were you one of the many residents throughout Killeen-Temple, Texas to see her play?
Now, TidalWave Comics based in Portland, Oregon has adapted her story into a comic biography. The title is Female Force: Brittney Griner. You can find the story in both paper back and hard cover on Amazon. It is also available in Kindle version.
The list of accomplishments are pretty stellar in basketball history. Griner recording the most blocks in NCAA history for a single season her freshman year, then went on to rack up the career record too. 748 total blocks is the most all time for any gender to play in the NCAA.
After college, and being selected number 1 overall in the WNBA draft, she won the WNBA title in just her second season. She was the only college player picked for the 2012 Women's Olympic team, but had to withdraw for personal reasons.
Oh, don't worry, she still appeared on the next two women's teams, and has 2 Olympic Gold Medals from the 2016 and 2020 (Played in 2021) games.
Lately though, her name is mostly mentioned in response to her detainment in Russia. Griner was held in a jail cell for almost 10 months. Professional athletes deal with being traded all the time across many sports, however Griner was traded for another prisoner to regain her freedom.
Have you continued to follow her career after leaving Texas? Do you think you will read her story in a comic book, or just wait for the movie?
Top 25 Delicious Foods & Drinks That Define The Great State of Texas!
There's more to Texas than just Dallas Cowboys and oil in fact, Texas has helped shape the taste of America. From BBQ, to Tex Mex to Ice Cream and beyond, Texas has introduced the rest of the U.S. to the Texas way of life through food. So what foods and drink make Texas so special? Let's take a look.
Top 20 Restaurants Central Texans Wish Would Come to Temple
A while back, I
asked the good people of Temple
if they could picture a good restaurant to fill the lot on North General Bruce Drive where the soon to be torn down Long John Silver's stood.
This was before it was announced that a Dutch Bros. Coffee location would open there (which was one of the places I predicted as a contender in our article).
So now Dutch Bros. is open in that spot, but the responses to my survey were interesting because they paint a picture of just how diverse Temple's population is. People recommended some familiar restaurants with locations in the surrounding area, but also a few I'd never even heard of.
Here are the top 20 results of the survey. Let's see what the good people of Temple are craving!
Texas Still Needs Your Help: More Wanted Criminals in The State
There are still criminals that remain in hiding from law enforcement. Have you seen these individuals?