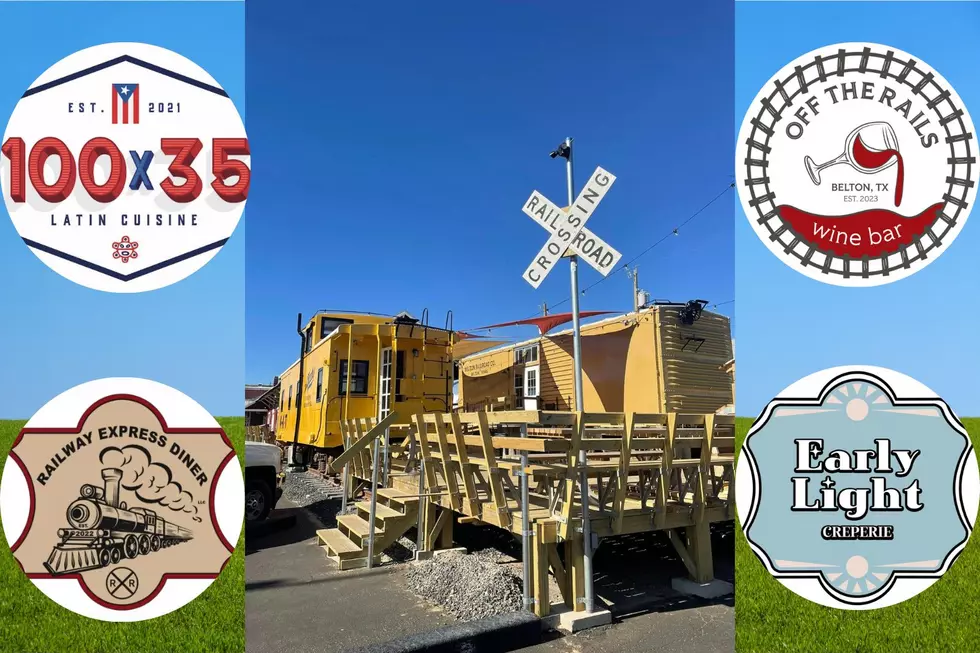 Business Booming In Restored Belton, Texas Train Depot
Warm Cookie Company Facebook/Canva
(Belton, Texas) - It's sad sometimes, but every town has buildings and spaces that have been neglected over the years and could use some serious TLC. Belton has a beautiful Downtown, and (let's be honest) has done a better job than some other local towns of keeping the area looking beautiful, but there are always those parts of town that could use a serious facelift.
However, one area in Belton is set to be revitalized after plans were announced last year.
Belton MK&T Depot Revamp Coming Soon
The once former train depot is being turned into a retail area, and of course, the announced businesses will have a certain train flair to them. The Central Texas Reporter showed some the businesses coming to the area.
First can we talk about the following two businesses and their names?
I mean Off The Rails, Railway Express Cafe? Whoever came up with these names isn't getting paid enough in our opinion. But there's businesses coming too!
It's not just train named places coming, other types of food are coming as well. There's even one place that currently doesn't have a logo yet, which here's our submission for it:
Ok, so it's a work in progress, but the building will be named Blackbird Books and Spirits, so we'll find a way to pop some books in there.
And for those who love coffee, yes there is a coffee house coming soon:
But there's one more business coming, and it's grand return should be very exciting:
To the left of the Coffee House, it's the grand return of Warm Cookie Company! Many in Central Texas are certain to be excited after the business left Temple.
So with all this coming soon, what else should be coming to the shopping area? Let us know by sending us a message using the chat feature on our FREE station app!
Top 20 Restaurants Central Texans Wish Would Come to Temple
A while back, I
asked the good people of Temple
if they could picture a good restaurant to fill the lot on North General Bruce Drive where the soon to be torn down Long John Silver's stood.
This was before it was announced that a Dutch Bros. Coffee location would open there (which was one of the places I predicted as a contender in our article).
So now Dutch Bros. is open in that spot, but the responses to my survey were interesting because they paint a picture of just how diverse Temple's population is. People recommended some familiar restaurants with locations in the surrounding area, but also a few I'd never even heard of.
Here are the top 20 results of the survey. Let's see what the good people of Temple are craving!
Take A Look At Some Of The Sexiest Rides At Ribs N Robs In Temple, Texas
These rides were too cool not to share, so here they are!
Top 25 Delicious Foods & Drinks That Define The Great State of Texas!
There's more to Texas than just Dallas Cowboys and oil in fact, Texas has helped shape the taste of America. From BBQ, to Tex Mex to Ice Cream and beyond, Texas has introduced the rest of the U.S. to the Texas way of life through food. So what foods and drink make Texas so special? Let's take a look.
Which Are The Most Famous Brands From The Lone Star State?