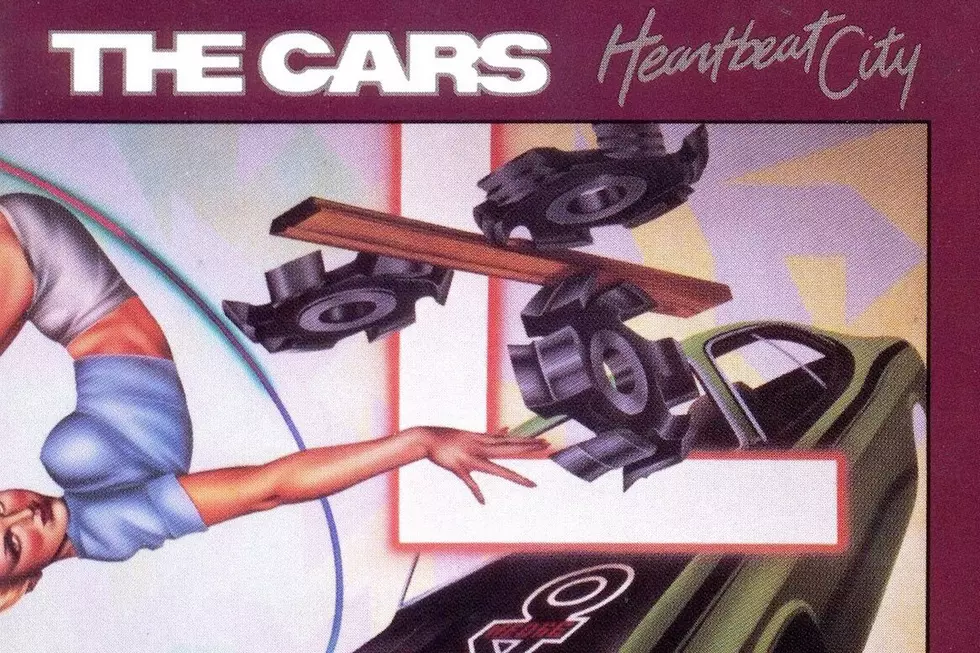 How the Cars Smoothed Out the Edges With 'Heartbeat City'
Elektra
They started the decade on a relative low note, with the critical and commercial comedown of 1980's poorly received Panorama album, but the Cars bounced back with Shake It Up the following year – and then they really hit their stride with Heartbeat City.
Released on March 13, 1984, Heartbeat City found the Cars working with producer Robert John "Mutt" Lange, after recording their first four albums with Roy Thomas Baker. But rather than a complete change of pace, the results represented a well-polished step forward in the pop evolution they'd started with Shake It Up, with Lange bringing the Cars the same brightly layered sound he'd used to turn Def Leppard's Pyromania into a multi-platinum smash a year before.
The aggressively radio-ready cuts that made up much of Heartbeat City might have seemed like a sellout move to some of the fans who remembered the Cars' artier past, but as far as the members of the group were concerned, it was all part of the same package.
"I don't feel caught between the two," guitarist Elliot Easton said during a 1988 interview with Creem. "We don't go, 'Let's do a bubblegum one, then let's do an arty one.' We just make records and let the singles emerge. It's elitist to only play for a certain, sophisticated audience. This band has always tried to bring out good music within a pop format."
That format certainly worked as far as radio program directors were concerned: The Cars' fifth studio LP spawned five Top 40 singles, including two ("You Might Think" and "Drive") that broke the Top 10.
Watch the Cars Perform 'Drive'
As tended to be a requirement at the time, the record's biggest hits boasted distinctive videos: "You Might Think" found the band members in a variety of unusual computer-generated situations, "Magic" proved that Cars frontman Ric Ocasek could walk on water and the moody clip for "Drive," directed by actor Timothy Hutton, introduced Ocasek to his future bride – supermodel Paulina Porizkova.
Even as the Cars embraced heavier production, Ocasek insisted that he kept his focus on solid songwriting.
"I like technology in music," he shrugged during a 1982 interview with New York Rocker. Keyboardist "Greg [Hawkes] has a lot of taste on how much to put in and how much not to put in. We try to keep it simple, although I've heard people say It sounds like a bank of keyboards. When we did the Tom Snyder show, he used two little Casiotone $125 organs and played the songs on that. It sounded the same."
Still, ultimately, Heartbeat City proved a difficult act to follow – both in terms of sound as well as success. The Cars entered an extended hiatus after the touring and promotion cycle for the record, recording one new song (the Top 10 hit "Tonight She Comes") for 1985's Greatest Hits, before temporarily separating for a round of solo releases that included albums by Ocasek, Easton and bassist Benjamin Orr, who'd contributed lead vocals to a number of the band's hits (including "Drive").
Watch the Cars Perform 'You Might Think'
By the time they reconvened for what would be their final original-lineup album, 1987's Door to Door, they were working without Lange – and without as much of that big '80s sound.
"It got to the point where just about anything that could be played by hand in three minutes, we'd spend three days programming," Ocasek admitted in a 1988 interview with Creem. "We were toying with technology, seeing how far we could go. It was like a game. But we slowly lost interest in what we started to do in the first place, because we tried to get it all too perfect. It was a great learning experience, but it can be stifling. There should be some spontaneity."
The Cars split in February 1988, and over the ensuing couple of decades, Ocasek found that spontaneity through his solo work, steadfastly refusing to consider a reunion and offering his public blessing to Hawkes and Easton when they teamed up with Todd Rundgren as the New Cars in 2005. Finally, in 2011, the surviving members – Orr sadly passed away on Oct. 23, 2000, following a struggle with cancer – reunited for an unlikely seventh LP, Move Like This.
The passage of time, changing trends, and Orr's absence cast an inescapably long shadow over the band's new music, but their chemistry was still potent: Move Like This cracked the Billboard Top 10, spinning off a rock radio hit with "Sad Song." Still, even with decades in the rearview mirror, Heartbeat City still offers fans a mighty smooth ride.
 
 
See the Cars Among Rock's Sexiest Album Covers