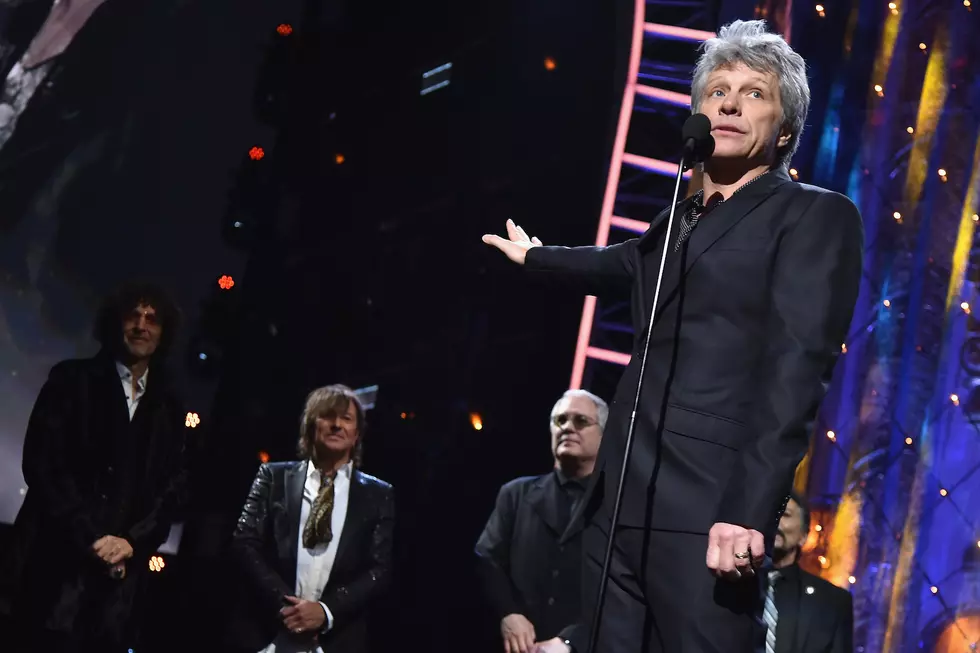 Bon Jovi Inducted Into Rock and Roll Hall of Fame
Theo Wargo, Getty Images
"To all of you who have been a part of this ride for the last 35 years, and all the fans, we share this honor with you – because this life is a gift," Jon Bon Jovi said, after a lengthy recollection of the band's early challenges and memorable triumphs. "There are so many of you that I want to hug and kiss and say thank you to."
The band's frontman and namesake personally requested that Stern do the honors after they received their second nomination last fall. The previous year, Bon Jovi noted that his band had yet to be included in the elite club, despite being eligible since 2009, due to a falling out with "two fuckers" on the board.
The New Jersey band formed in 1983, and put out its self-titled debut album the following year. They achieved huge success with their third record, 1986's Slippery When Wet, and have gone on to release another 10 albums and become one of the best-selling rock bands of all time.
Unlike many acts inducted this year, Bon Jovi continue to tour with most of their original members, even though bassist Alec John Such and guitarist Richie Sambora are no longer on board. The band began its latest tour last month, promoting This House Is Not for Sale, while Sambora has been working on an album, Radio Free America, with his girlfriend and musical partner Orianthi that will be released on May 11.
"Boy, was it fun," Sambora said of his time in Bon Jovi. "I've got to thank the fans, because without the fans, let's face it – they're the mirror. Every night, we went out and faced a stadium of 72,000 mirror fans."
All of the inductees then took part in a group hug after speaking, before plugging in for their set. The 2018 induction ceremony will be broadcast on May 5 at 8PM ET on HBO.
Photos from Tonight's Hall of Fame Induction Ceremony