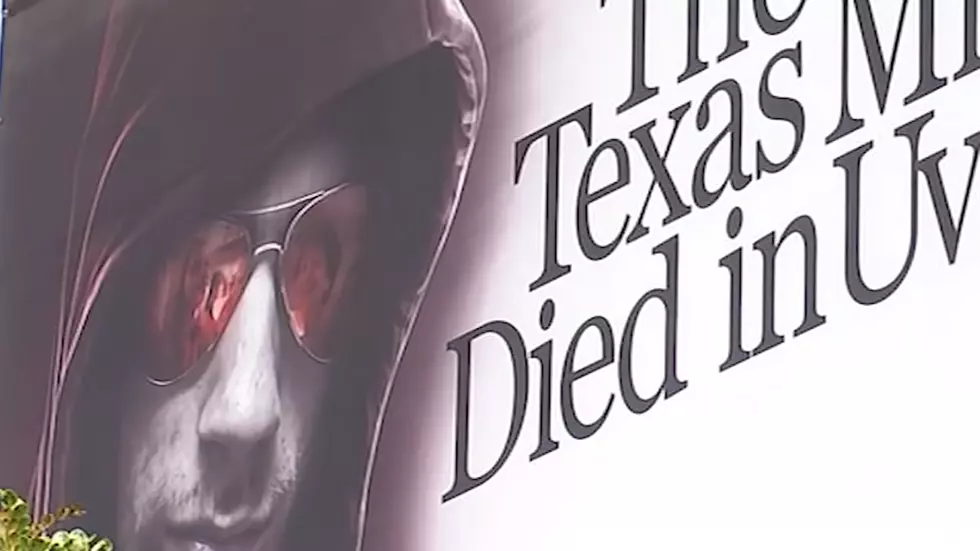 Billboard in San Francisco Cites Uvalde Massacre as a Reason Not To Move to Texas
ABC13 Houston, YouTube
A billboard recently spotted in San Francisco, California has raised many questions about who put it up and why it is urging people not to move to Texas. While the Texas-California rivalry is nothing new, a lot of people are upset about the use of an unspeakable tragedy to get a point across.
California Billboard Cites Uvalde Tragedy
This is the billboard in question:
The billboard shows an unknown man with sunglasses and a hoodie. Two people can also be seen in the reflection on the sunglasses, who also, at the time of writing, remain unidentified.
Also currently unidentified is the person who commissioned the billboard.
According to both KSAT and ABC13, both news outlets have reached out to the company who owns the billboard to see if they could find out who bought it.
ABC13 also shared a story in which residents in California shared their thoughts on the billboard, with many finding it distasteful but others thinking it's fine.
As shown in the video, reception has been mixed, with some approving of it, and others thinking that it is too much to invoke the Uvalde tragedy.
What Is The Texas Miracle?
One part of the billboard some are confused about is the mentioning of the "Texas Miracle." ABC13 elaborated on this, saying that Texas handled the 2008 recession much better than other states. Texas was even able to create more jobs at a time when most states were struggling.
This brought about the term known as the Texas Miracle.
Why Is This Billboard Appearing Now?
The reason for the billboard appearing in San Francisco, and reportedly Los Angeles, is a mystery as well. ABC13 reported that another news station saw the image on the same day Uvalde's school police chief was fired amid criticism of his handling of the tragedy.
This is a developing story, and we will have more information when it becomes available.
What Do You Think Of The Billboard?
Do you think this billboard goes too far? Let us know using the Chat button in our free app.
Texas Crime Statistics By City
Check to see how crime compares in your city versus elsewhere.
Help Bell County Crime Stoppers And Police Find These Missing Persons
If you know anything about these missing people, here's how you can help bring closure to their loved ones.
Have You Seen These People: Texas' Most Wanted Criminals
If you have seen any of these criminals, alert Texas Authorities at 1-800-252-TIPS (8477).
The Most Dangerous City in Texas for 2022 May Surprise You
According to FBI statistics
, Texas had
438
violent crimes and
2,562
property crimes per 100,000 residents as of this year. For every 100,000 residents, there are
224
police officers statewide.
Crime rates are expressed as the number of incidents per 100,000 people.