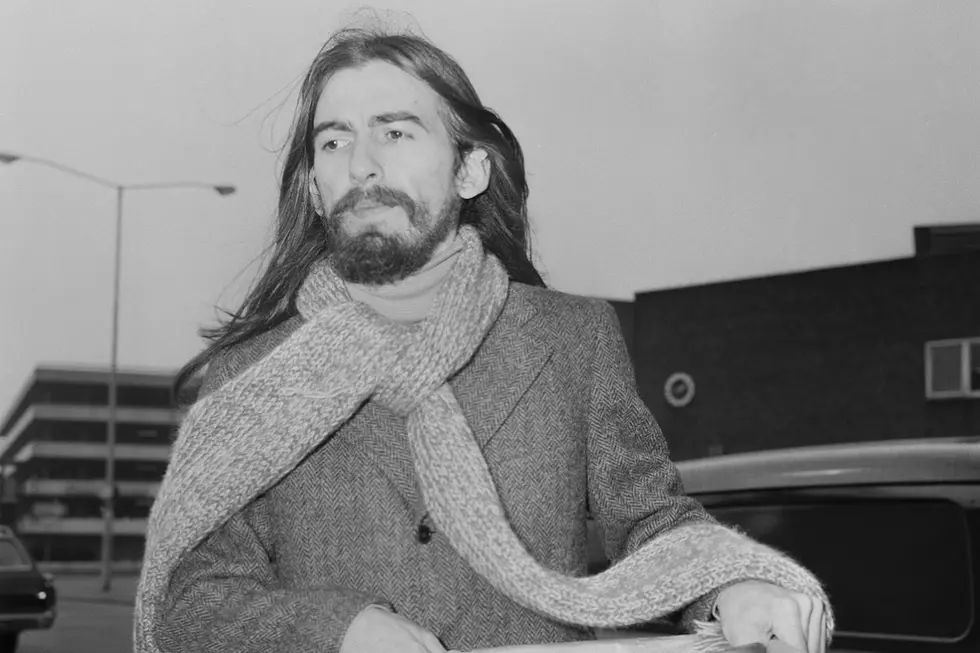 How George Harrison Helped Disband the Beatles Fan Club
Dove / Daily Express, Getty Images
When the Beatles broke up in 1970, you might have expected the band's official fan club to end as well. But, much as members John Lennon, Paul McCartney, George Harrison and Ringo Starr continued with solo careers, the club endured, as did its factions. There were George chapters and John chapters and so on in the so-called Apple Tree, and the main, Liverpool-based fan club focused on all things Apple Records-related.
Freda Kelly – who swooned over the group at the Cavern Club as a teen – had been hired by manager Brian Epstein to serve as the club's secretary in the Beatles' early days and remained in her position after they split. Other people managed the individual chapters, one of which likely helped bring about the end of all the Beatles clubs.
Pat Kinzer (later Kinzer Mancuso) ran the George fan club, which initially had been held in high regard by both Harrison and his father Harold. That's because, in 1970, Kinzer had co-founded a memorial fund in honor of George's late mother, Louise, who recently had died from cancer. Kinzer had encouraged fan club members to donate to the hospital that had treated Mrs. Harrison.
But she ran afoul of "the quiet Beatle" in late 1971, when she published quotes from an interview with George's wife Pattie, in which she claimed the couple were planning to adopt a child. Reportedly, Harrison was upset at his wife for speaking so candidly about their personal life. He was just as dismayed when he saw the details in the latest fan club letter. He sought out manager Allen Klein to tell him about his anger over the "garbage" he had read.
"On Jan. 19, 1972, I received a letter in the mail on Apple letterhead. It was from Laura Cayne, director of Apple Tree, and was addressed to all area secretaries and chapter presidents. In this letter, Laura said the Beatles wished to have their fan clubs in England and the United States dissolved," Kinzer Mancuso wrote in her book, Do You Want to Know a Secret? "I was very curious to know whose newsletter was the 'trigger.' About a week later, I found out that it was the Harrison Herald-George Gernal. I received a mimeographed letter on Jan. 24 from Joanne Maggio, the head of all the chapters of Apple Tree. In the letter, she said Laura Cayne informed her a couple of weeks prior that she had been called into Allen Klein's office. Allen Klein wanted to know who Pat Kinzer was."
Kinzer was so distraught about the end of the club that she sent letters to Harrison, his family members and other people involved in the Beatles fan clubs. One of the few response came from Kelly, telling her that she didn't deserve sole blame for this.
"I know that your newsletter did cause a lot of trouble," Kelly wrote, "but PLEASE don't think it was you who caused the closure of this fan club."
She went on to explain that there had been a meeting at Apple's headquarters in January, attended by Harrison, Starr and others related to the Beatles and Apple Records. They were debating the future of the fan club and weighed its cost and value to a band that no longer existed. Then Kelly, who had grown up, gotten married and had a child during her Beatle years, shared some personal circumstances.
"I told them that I was pregnant, and they said, 'Well, do you think you'd be going back to work?' And I said, 'I won't be going back to work, I'll have two children then,'" Kelly recalled in the documentary Good Ol' Freda. "And then George finally spoke up; he said, 'Freda, you were there in the beginning, you're there at the end. Let's call it a day, let's end the fan club'."
The individual chapters sent out final letters in the months after that meeting. After almost a decade heading the official club, Kelly sent out one last notice in March, letting fans know that the organization would cease to exist at the end of the month. She also pleaded for no more letters to be sent to the fan club, because of the volume of mail that still required answering.
According to a 2013 profile of Kelly in The Guardian, the former fan club secretary continued to answer letters for the next three years after the club ended. "You can't just close a fan club overnight," she said.
 
 
Beatles Solo Albums Ranked