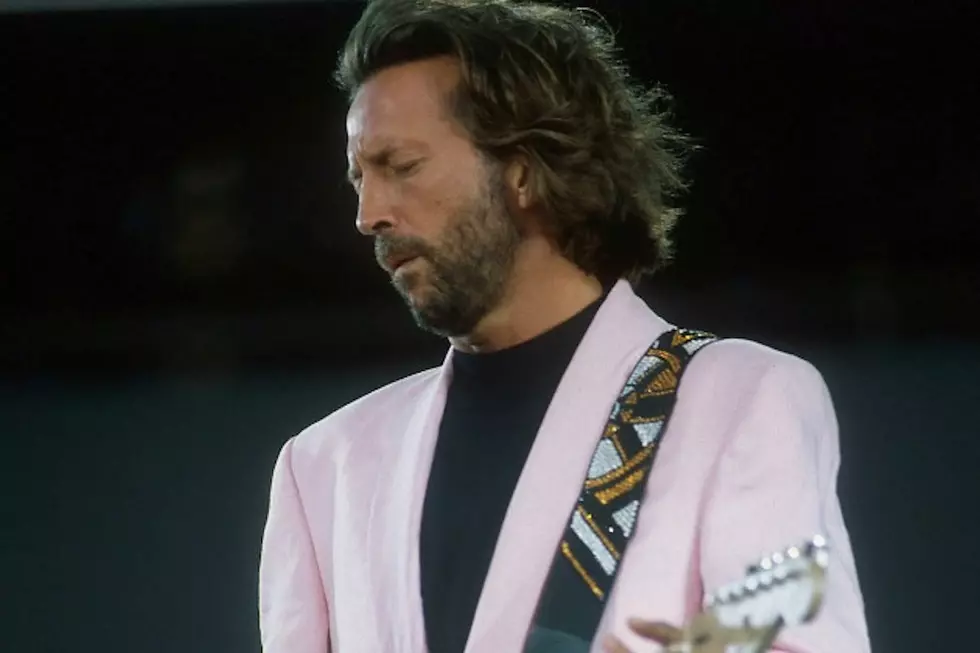 The Day Eric Clapton's Son Was Killed in 49-Story Fall
Frank Micelotta, Getty Images
Eric Clapton suffered a parent's worst nightmare on March 20, 1991.
In a heartbreakingly tragic accident, Clapton's 4 1/2-year-old son Conor fell out of an open window in the high-rise. He was living in the New York condominium with his mother, actress and Italian television personality Lory Del Santo. Although New York law requires window guards in apartment buildings, according to Snopes, a 1984 ruling exempted condos – leaving building owners to decide whether or not to have safety devices installed.
The New York Times reported that Conor's accident happened during a visit from the housekeeper, who had opened the six-by-four window in order to clean it when Conor wasn't in the room and was unable to prevent the boy from "[darting] past" before it was shut.
Clapton, who didn't live with Del Santo and Conor, happened to be in New York at the time. In fact, the night before tragedy struck, he'd taken Conor to the circus for an outing later memorialized in the song "Circus." As he later told Ed Bradley during a 1999 interview with 60 Minutes, wanting to be a good father to his son was what ultimately prompted Clapton to get sober.
"When he was born, I was drinking, and he was really the chief reason that I went back to treatment, because I really did love this boy," he recalled. "I thought, 'I know he's a little baby, but he can see what I'm doing, and I'm tired of this.'"
Listen to Eric Clapton Perform 'Tears in Heaven'
In a 2005 interview with Mojo, Clapton said Conor's death "threw me into ... a wobble," and in the immediate aftermath of the accident, he coped by throwing himself into his work -- most notably by contributing a trio of new songs to the soundtrack of the 1991 movie Rush, including "Tears in Heaven," the Grammy-winning hit ballad inspired by the immense grief of his loss.
"It asked a very pertinent question," Clapton later told Mojo. "Because I don't really know. ... I have a belief in a higher power, but I don't really know whether – most of those old religious things say, 'See you over there.' And you think, 'Really? How do you know?' And the song asked that question. And I'm always wondering whether ... we meet people again. I think what works about that song is it's a question. That doesn't offend anyone. It's asking for help. It works for people. It's a great way to communicate, asking for help."
Help, but not a cure for sadness. As Clapton explained in that 2005 interview, "I think it won't make sense to me for maybe another ten years. You know when you can look back and say, 'Oh, that's why I did that.' Someone once pointed out to me that the time I began taking heroin really heavily coincided with the death of my grandfather. Back then, I didn't equate the two at all.
"The same could be said about the death of my son in 1991 and me getting into the weirdest relationships for the rest of the '90s before I met my present wife," Clapton added. "I never saw a connection until recently. I was lost again. Looking for something. Probably for mothering. Now I can see, 'Yeah, you really didn't do very well coming out of that' – although I was able to express it musically."
 
 
Ranking Every Eric Clapton Album
See Eric Clapton's Guitar Hero Yearbook Picture