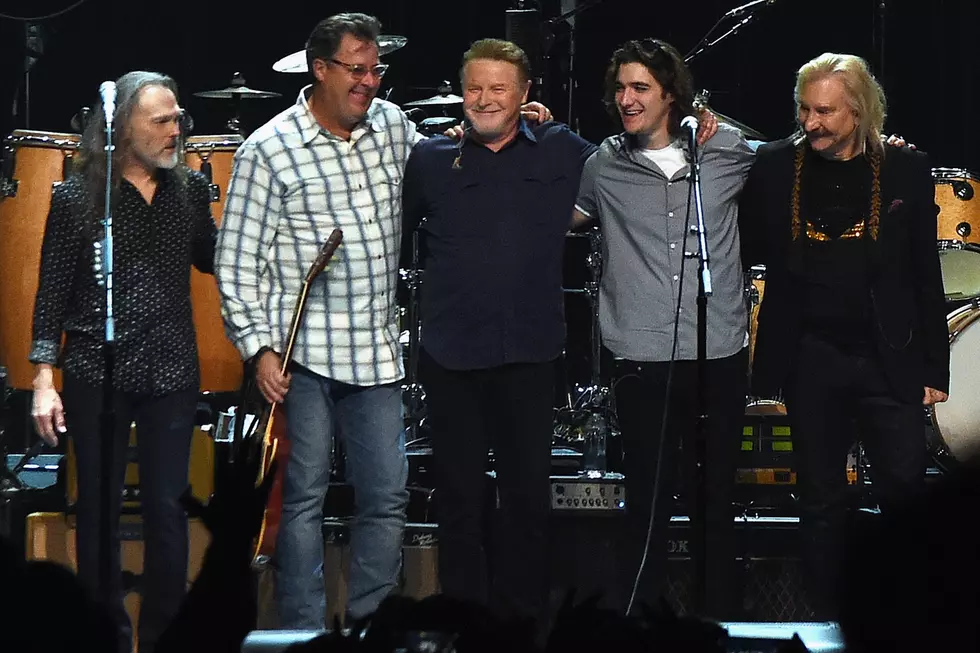 Eagles Add More Dates to 2018 Tour
Rick Diamond, Getty Images
The long rollout for the Eagles' 2018 tour continues with the addition of four new dates to the band's slowly expanding itinerary.
These latest shows are being announced roughly a month after the most recent expansion of the Eagles' 2018 tour calendar, which tacked 13 dates onto a list of concert commitments that already stood at 20 shows after starting out with a dozen. The four new stops begin May 3, when the band is now scheduled to perform at Salt Lake City's Vivint Smart Home Arena; two days later, they're booked for the Moda Center in Portland, Ore., followed by the Spokane Arena on May 8.
The last of the new shows arrives Sept. 8, when the band's set to play at the Talking Stick Resort Arena in Phoenix — a date that currently stands more than a month after the tour's previous final stop. That gap could indicate the spot in the calendar where the Eagles next intend to book further dates; if that turns out to be the case, this tour will keep the band on the road more or less consistently from March through September, solidly reaffirming their return to action after the death of co-founder Glenn Frey.
American Express account holders will have the opportunity to take advantage of a pre-sale for the new dates starting Jan. 9, with "additional pre-sale opportunities" set to begin on Jan. 11. General tickets go on sale Jan. 12; take a look at the complete list of shows below, with newly added dates in bold.
Eagles 2018 Tour Dates
3/12 — Indianapolis, IN
3/14 — Chicago, IL
3/15 — Grand Rapids, MI
3/18 — St. Louis, MO
3/19 — Kansas City, MO
3/21 — Des Moines, IA
3/23 — Nashville, TN
3/24 — Nashville, TN
4/08 — Columbus, OH
4/10 — Lexington, KY
4/11 — Charlotte, NC
4/14 — Orlando, FL (with Jimmy Buffett)
4/16 — Columbia, SC
4/17 — Raleigh, NC
4/19 — Birmingham, AL
4/21 — Miami, FL (with Jimmy Buffett)
5/03 — Salt Lake City, UT
5/05 — Portland, OR
5/08 — Spokane, WA
5/10 — Vancouver, BC
5/11 — Vancouver, BC
5/14 — Calgary, AB
5/15 — Edmonton, AB
6/15 — Houston, TX (with Chris Stapleton)
6/17 — Tulsa, OK
6/20 — New Orleans, LA
6/23 — Arlington, TX (with Chris Stapleton)
6/28 — Denver, CO (with Jimmy Buffett)
6/30 — Minneapolis, MN (with Jimmy Buffett)
7/14 — Buffalo, NY
7/15 — Toronto, ON
7/17 — Toronto, ON
7/20 — Boston, MA
7/24 — Pittsburgh, PA
7/26 — Washington, DC (with James Taylor)
7/28 — Philadelphia, PA (with James Taylor)
9/08 — Phoenix, AZ